Can You Tell Which Mules Cost $193 More Than The Other?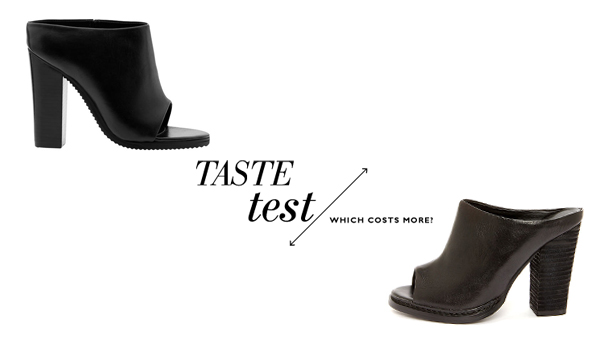 The mules comeback tour started when designers showed the shoe for Spring 2014. Now everyone, and we mean everyone, is making them. Just take a look at the two shoes above. Don't the pretty much look the same minus the zigzag sole on the bottom of one? We know it's a little too early to think about spring, but we have to say, either of these make for a great in-between weather shoe. Not to mention, they're both on sale (because who is wearing open toe shoes right now??). Can you tell which mules cost more that the other?
Answer: The Tibi Leona Mules ($262.99, down from $375) are on the left, and the Chinese Laundry Good Life Black Leather Peep Toe Mules ($69, down from $89) are on the right. Did you guess correctly? Which do you like more? Let us know in the comments below!
Test your fashion savvy some more with: studded pumps, x rings and leather backpacks