Can You Tell Which Off-The-Shoulder Top Costs $1,545 More Than The Other?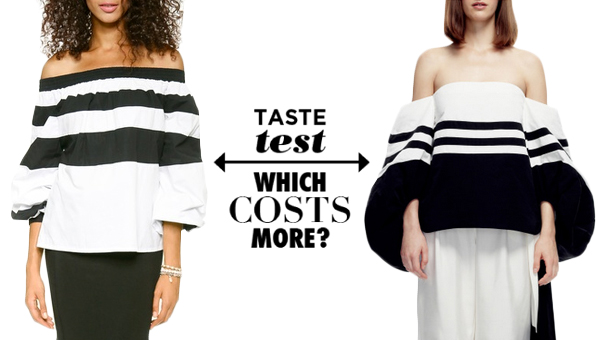 We're not surprised at all that the less expensive of these two tops sold out within days of hitting Shopbop. Wanna know why? Well, first let us explain where this season's off-the-shoulder trend started. It can be summed up in two words, one name: Rosie Assoulin. The new designer kills it when it comes to tops and dresses that expose the clavicle. Her black and white striped top, worn by editor-turned-florist Taylor Tomasi Hill, is a particular favorite of fashion insiders. So of course everyone went after this way cheaper knockoff. Can you tell which one costs $1,545 more than the other?
Answer: The one on the left is the MLM Label Afar Off the Shoulder Top ($150), and the one on the right is Rosie Assoulin's Striped Cotton-Faille Ballon-Sleeve Top ($1,695). Did you guess correctly? Let us know in the comments below! And watch this space for any updates on when the shirts will be re-stocked.
Test your fashion savvy some more with: black strappy heels, white ripped jeans and white embroidered dresses