Can You Tell Which Platform Slip-Ons Cost $175 More Than The Other?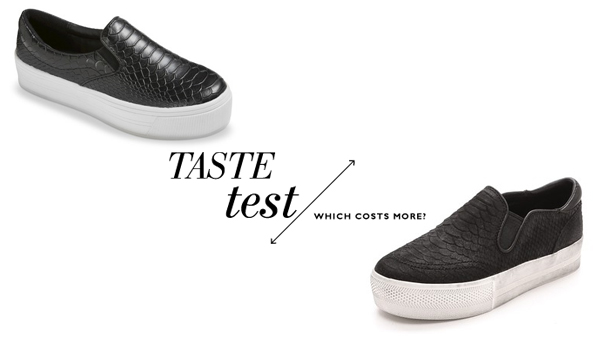 I don't know about you, but I am really feeling the platform sneaker trend–especially the slip-on styles. There's just something about those thick, chunky soles! Ash makes a pair that I am so into…minus the $200 price tag. So I decided to do some "research" to see if any lookalike styles existed. Turns out, Target makes an almost identical set of kicks for a quarter of the price. Both are platforms, both come in black and both have embossed scales. Can you tell which sneaker costs more than the other? 

Answer: The one on the left is the Dedra Platform Slip-On Flats ($24.99) from Target, and the one on the right is Ash's Jungle Slip On Sneaker ($200). Did you guess correctly? Which do you like more? Let us know in the comments below!
Test your fashion savvy some more with: collar necklaces, metallic moccasins and black lace-up heels