Can You Tell Which Poncho Costs $1,355 More Than The Other?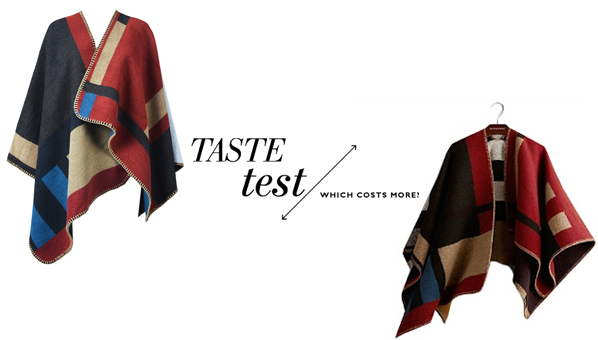 The Burberry colorblock poncho is probably the most-wanted fashion item this fall. That's why it made our Going, Going, Gone holiday gift list. Yes, celebs like Sarah Jessica Parker own the cape (monogrammed, obvs), but you know an item has truly reached must-have status when it is knocked off. Which is exactly the case here. The only major difference between these two ponchos is the price tag. One costs $1,395, and the other just went on sale for $39.90 (down from $69.99). Can you tell which one is more expensive?
Answer: The one on the left is the Contrast Color Basic Poncho Coat ($39.90) from Choies, and the one on the right is THE Burberry Colour Block Check Blanket Poncho ($1,395). Did you guess correctly? Which do you like more? Let us know in the comments below!
Test your fashion savvy some more with: leather totes, slip-on sneakers and leopard sweaters