Can You Tell Which Poncho Is TOMS For Target And Which Is ASOS?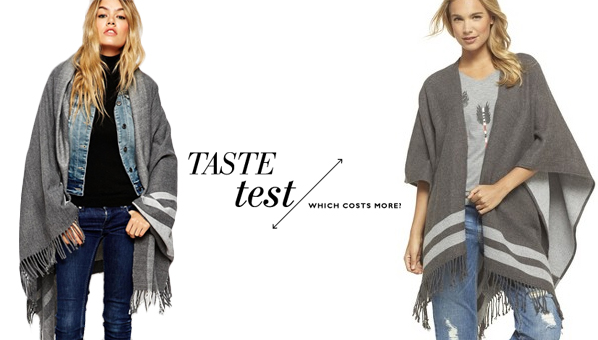 Remember that TOMS for Target poncho everyone was obsessed with? Well, it is no longer available to purchase–but don't get upset just yet. ASOS makes an almost identical version that is available in every size (it's one size only). It comes in the same grey color with light grey stripes and has a fringe hem. The only difference? One has a wider third stripe under the first two. But will people really be able to tell the difference when it's wrapped around your body? Probably not. Can you tell which poncho is by TOMS for Target and which is ASOS?
Answer: The ASOS Oversized Scarf With Stripes ($37.90) is on the left, and the TOMS for Target Poncho ($28) is on the right. Did you guess correctly? Which do you like more? Let us know in the comments below!
Test your fashion savvy some more with: studded pumps, triangle earrings and x rings