Can You Tell Which Santa Sweater Costs $89 More Than The Other?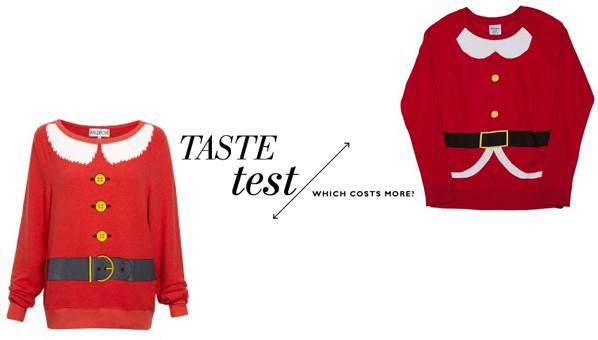 This time of year brings festive decorations, endless shopping lists and cheesy holiday sweaters. Whether your office throws an annual party, or you plan to take part in your city's Santacon, it's good to have a crazy Christmas sweater in your arsenal. So while I was on the hunt for one, I came across these two almost identical Santa pullovers. One is from Wildfox, which has a pretty awesome holiday-themed collection, and the other is from Target. Can you tell which Santa sweater costs more than the other?
Answer: The one on the left is the Santa Baggy Beach Jumper ($108) by Wildfox, and the one on the right is the Santa Costume Pullover Sweater ($19.59, down from $27.99) from Target. Did you guess correctly? Which do you like more? Let us know in the comments below!
Test your fashion savvy some more with: ponchos, leather totes and slip-on sneakers