Can You Tell Which Spike Earrings Cost $53 More Than The Other?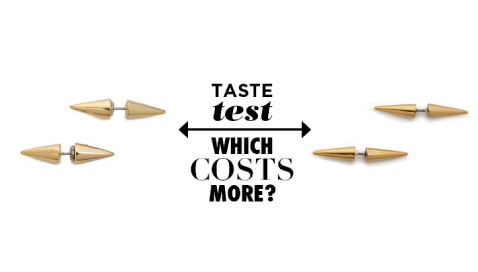 Lately we've been seeing a ton of earrings that are just as cool from the back as they are in the front, like these celeb-approved Jacquie Aiche ear jackets. So it's no surprise that we came across two pairs that are almost identical. Seriously, we had a hard time telling the difference when we saw both side by side. One pair might have slightly skinnier spikes, but there's no denying that they're pretty much exactly the same…minus the price tag. Can you tell which spike earrings cost more than the other?
Answer: The set on the left is Fallon Jewelry's Double Micorspike Earrings ($88), and Jules Smith's Arrow Dagger Earrings ($35) are on the right. The only difference between these two double-sided, gold plated earrings is the thicker spike on the more expensive pair. But you can't really go wrong with either set. A good pair of earrings under $100 is always a win. Which do you like more? Let us know in the comments below!
Test your fashion savvy some more with: ankle strap pumps, calf-hair espadrilles and pavé link bracelets