Can You Tell Which Split Back Top Costs $103 More Than The Other?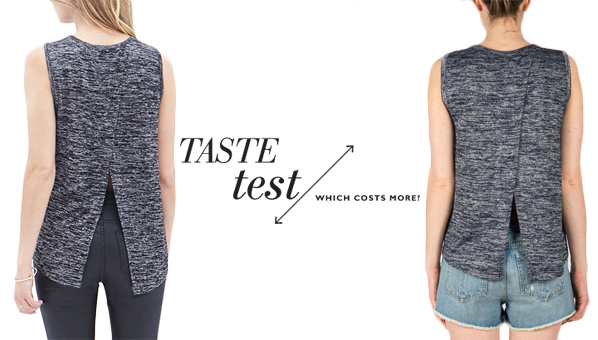 I'm only telling you about this knock off rag & bone tank because I already shopped it. Remember back in May when we wrote about split back tops? Yeah, this was the one shirt that completely inspired that post. While the real one is sold out everywhere, a waaaaay less expensive version just hit Forever 21. You can bet it's going to sell out real quick, just like the last rag & bone knock off from F21. So I'll stop typing now and let you guess (then shop!): which split back top do you think costs more than the other?
Answer: The one on the left is Forever 21's Slub Knit Tulip-Back Tank ($12.80), and the one on the right is rag & bone's Nicole Tank ($60, down from $115). Did you guess correctly? Which do you like better? Let us know in the comments below!
Test your fashion savvy some more with: off-the-shoulder tops, leather slip-ons and black strappy sandals