Can You Tell Which Triangle Stud Earrings Cost $1,525 More Than The Other?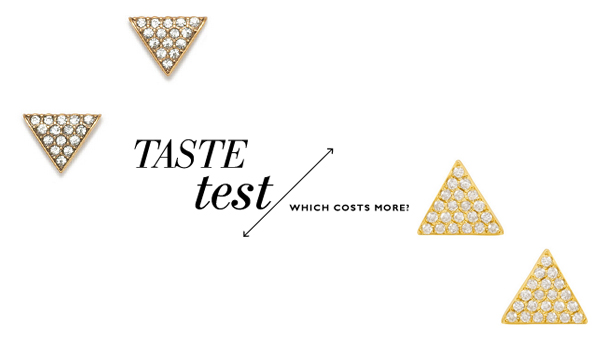 Anita Ko really hit it big this year. In fact, she's on our list of fine jewelry designers you need to know. All of her gold pieces have just the right amount of shine without going too over the top. Just be prepared to shell out upwards of $400 for her earrings, rings, bracelets and necklaces. Oh, you're not? That's okay, we found a set of earrings that are identical to Ko's triangle gold diamond studs…for, like, a sixteenth of the price. You'll have to sacrifice the real diamonds for crystals, but as they say, you win some you lose some, right? Can you tell which triangle stud earrings cost more than the other?
Answer: The Crystal Triangle Earrings ($24.99, down from $48) from J.Crew are on the left, and the Triangle 18-Karat Gold Diamond Earrings ($1,550) by Anita Ko are on the right. Did you guess correctly? Which do you like more? Let us know in the comments below!
For more Taste Tests, check out: platform slip-ons, collar necklaces and metallic moccasins