Can You Tell Which Twisted Skirt Costs $171 More Than The Other?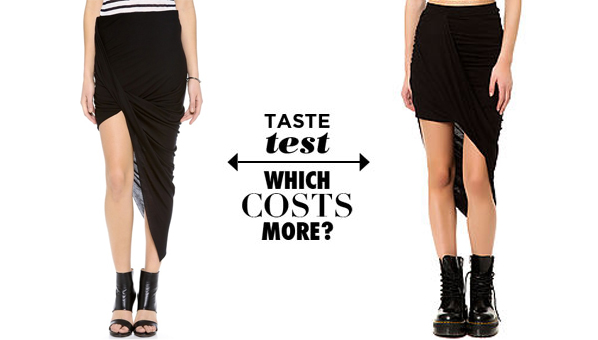 Every girl knows the importance of a great LBD (little black dress..duh!). But what about a little black skirt? While the temperatures slowly begin to rise, so will our hemlines, and the asymmetrical draping on these skirts puts a fun twist on the classic black maxi. Whether you dress it up with heels and a clutch for a girls night out (G.N.O. right, Miley?) or dress it down with booties, this little black skirt is perfect for any occasion. But before you add this twist to your wardrobe, you'll have to make a decision. Are you willing to splurge for the Helmut Lang version or would you settle for the MKL Collective copy-cat at Karmaloop.com? Can you tell which twisted black skirt costs $171 more than the other?
Answer: The skirt on the left is the Helmut Lang Asymmetrical Wrap Skirt ($195) and the skirt on the right is the MKL Collective The Twisted Up Skirt In Black ($23.95, down from $42). Did you get it right? Let us know in the comments below!
Test your fashion savvy some more with: studded pumps, daisy sunglasses and deep v-neck sweaters