Can You Tell Which White Distressed Jeans Cost $166 More Than The Other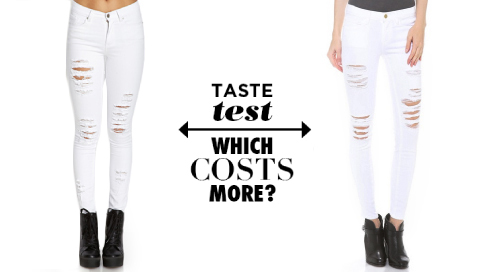 Remember how we told you celeb-approved Frame Denim is having a moment? Well, nothing says you made it like being knocked off by other brands. And that's exactly what's going on here. Forever 21 made a version of white distressed jeans that look almost identical to Frame's. Even the holes are basically in the same place. The only major difference between the two, besides the price tag, is that one pair is a little more ripped up than the other. But can you tell which of the jeans above costs $166 more than the other?

Answer: The pair on the left is Forever 21's Distressed Skinny Jeans ($32.80), and the pair on the right is Frame Le Color Rip Skinny Jeans ($199). Did you guess correctly? Which do you like better? Let us know in the comments below!
Test your fashion savvy some more with: white embroidered dresses, ankle strap sandals and spike earrings