Can You Tell Which White Slip-Ons Cost $65 More Than The Other?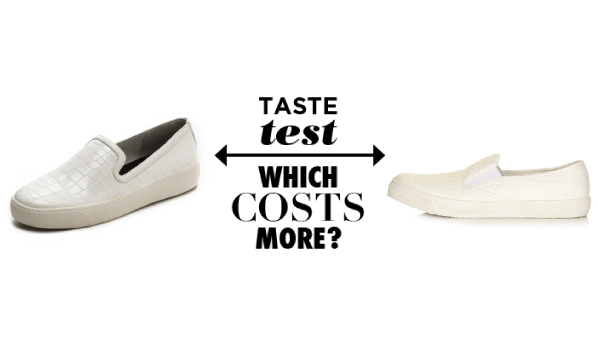 We already know white sneakers are #trending for spring, and slip-ons are having a major moment. So the combo of the two is THE shoe to rock right now. It's no surprise that everyone from Sam Edleman to Topshop is creating their own version of this popular style. With so many options out there, it can be overwhelming to decide on which one you're going to get (because we know you'll eventually give in to this trend). That's where we come in. We found two of the best white slip-on sneaks out there that don't cost a fortune, but one pair is super cheap while the other is more of an investment, at least compared to the $35 kicks. Can you tell which white slip-on sneakers cost $65 more than the other?
Answer: The shoes on the left are Sam Edelman's Becker Croc Embossed Sneakers ($100), and the ones on the right are Topshop's TIKA2 High Vamp Skaters ($35). The only difference between these two croc-embossed kicks is the stretch material on tongue of the Topshop pair. Which do you like more? Let us know in the comments below!
Test your fashion savvy some more with: Mean Girls-inspired bracelets, gold bar sandals and ankle-strap sandals