Candice Swanepoel Lives Up To Her Angel Reputation In This Valentino Dress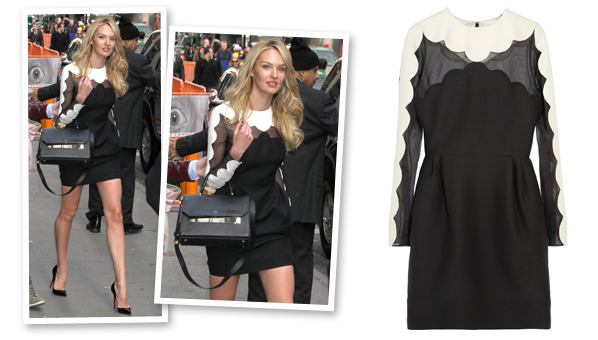 Did you happen to catch Candice Swanepoel modeling the $10 million dollar bra at the Victoria's Secret fashion show earlier this week? As if that wasn't proof enough of her perfection, the South African stunner was recently snapped wearing the hell out of this amazing Valentino Scallop Edge Tulip Dress ($3,690) while walking into Good Morning America.
Now while this scalloped number worked as daywear for Candice, we think this would be just as well-suited for an evening soiree. With all those holiday parties swarming your December calendar, you should be prepared with a spectacular dress like this. Don't look at the price–just get yours below.
Valentino Scallop Edge Tulip Dress ($3,690)
Check out more savvy celeb style such as Kerry Washington's Vince Camuto dress, Rita Ora's jacket and Gisele's embellished sweatshirt.
[Photo: Splash News]