If there's one thing we should all do more of, it's smile. There's just something about a subtle smirk or even a good belly laugh that can have a transformative effect on your entire mood and disposition.
Here's the truth, though: lots of people feel self-conscious when it comes to showcasing a cheesy grin. Sure, smiling and laughing are good for your soul, but only if you're not freaking out and worrying about what people are thinking about your teeth.
We're not here to judge; we totally get that feeling your best is sometimes connected to how you think you look. And given that your smile is one of the first things people notice about you, it's absolutely normal for a less-than-perfect grin to sometimes be a hindrance.
Luckily, there's good news: straightening your teeth is easier than ever these days! Chances are you've probably already seen lots of ads for at-home aligners, but when it comes to real, safe results Candid is among the best of the best. Why? First and foremost, they work with actual orthodontists. Not dentists, orthodontists and yes there's a difference. Orthodontists spend an additional 2-3 years specifically learning how to treat irregularities in the alignment of the teeth, so they are really the only doctors who should be making decisions about straightening your teeth.
We're also really big fans of Candid because they're not just in it for a quick buck. They legitimately care about your health and well-being… even if that means they have to refuse to treat you. Yes, they really do turn people down if an orthodontist determines they can't safely and effectively deliver a great outcome.
Intrigued? Here's what you need to know about getting started with Candid:
– Their aligners are durable, stain-resistant, and BPA- and phthalate-free. Bonus: their whitening foam is gentle enough to use throughout the day and every night.
– Finding out if you're a candidate for Candid's aligners is easy. You can either visit one of their in-person locations or you can buy a starter kit. The kit includes everything the licensed orthodontist will need to evaluate your case, including a pre-paid return box to ship your photos and impressions. If the ortho determines that Candid isn't quite right for you, you'll get a full refund.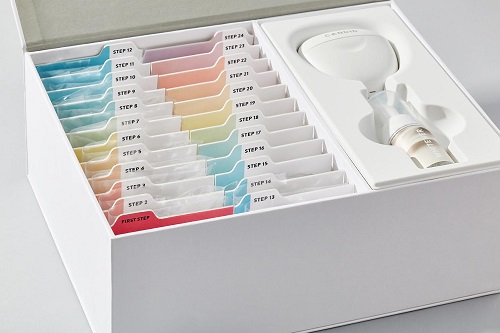 Once the orthodontist gives you the green light to get started with Candid, your new aligners will be sent directly to you complete with instructions on how and when to use them. Just know that Candid is very careful about moving your teeth at the right speed for your body. Correcting mis-alignments too quickly could mean that your body never has a chance to heal and may actually cause you more trouble in the long run. So be patient and trust the process!
Ready to take that first step toward a smile you're proud to show off? Head over to candidco.com now and you can score the starter kit for just $20 with code SHEFINDS75!
The editors at SheFinds wrote this post on behalf of Candid and received compensation as part of our agreement.