The cape has earned an interesting reputation throughout the years, but before you automatically associate it with flying powers or investigative skills, notice that it is also a staple among uber-hip fashionistas.  Recently, The Sartorialist scoured the world to create a series called "How to Wear a Cape."  Above are his most stylish finds from New York and Milan respectively.  Here are our more budget and day-to-day friendly takes on the cape.
Alice + Olivia's ($240) grey cotton cape can be easily thrown on for those spring or fall days that are not too hot and not too cold.  It's shape gives waist definition that's best for petite women who might feel overwhelmed by this loose fitting trend.
Take a long relaxing weekend in the country with this ranch style poncho by Line ($172.99).  The knitted fabric makes it look one-of-a-kind, while the turtleneck and pocket provide added warmth.
Just because capes seem like a whole lot o' fabric, doesn't mean you can't pair them with your favorite short shorts.  An over-sized t-shirt material cape-shirt hybrid, like this one by LNA ($77) has a surfer chick aura that we totally dig.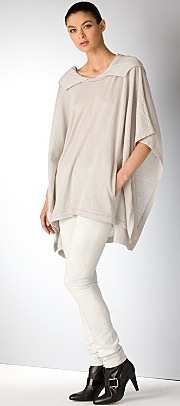 Ever wish you could be that women who can weather long plane flights and emerge looking impossibly fresh?  We think this Helmut Lang ($147.50) cape is the secret to achieving that look.  Bonus, it doubles as a better alternative to itchy airplane blankets.
Upgrade your lazy weekend look from a grungy college sweatshirt to a chicer cape-sweatshirt combo.  Twisted Heart's ($77) take successfully makes a subtle, yet stylish allusion to the 80's with this semi-acid wash look.
Find more trends for spring with our guides to spring fashion, including shoes for spring and rain coats.  Find all the best online bargains with our list of this week's online sample sales.