Things that are the worst: finding the perfect bathing suit, wearing it once, and proceeding to completely destroy it in the laundry. I know from experience that washing a bathing suit is tough–when you throw it in your regular laundry, you risk stretching out or fading it, and when you handwash it in the sink, it's often hard to get the sand out of places where one should never ever have sand.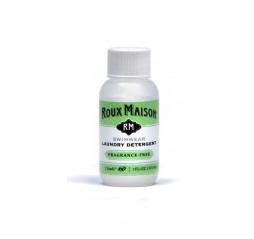 Your Summer Best Friend: Roux Maison Swimwear Detergent, $14.50 for 3
Luckily, Roux Maison is now making swimwear detergent that helps your favorite bikinis maintain their shape and color while removing all traces of chlorine, sunscreen, tanning oil and that dreaded sand. These travel-sized bottles are a steal at  3 for $14.50–you can toss one in your beach bag for your next long weekend in the sun. Get 'em online at Roux Maison.
Now, all you need is that bikini bod…
Shop hot summer swimsuits now! We love Mara Hoffman For Madewell, Rag & Bone Bikinis, and this L*Space fringe stunner!