SHEfinds receives commissions for purchases made through the links in this post.
I know some people have strong opinions about Cetaphil products but I'm not one of them. I actually happen to love their products and I've never had a problem when using them. Everyone usually talks about the daily cleanser, but I'm loving the Cetaphil Advance Ultra Hydrating Lotion ($9.99).
Up until about six months ago, I used a ton of skin care products. I'm talking serum, eye cream and whatever else I felt like trying. My skin started breaking out more frequently so I went to my dermatologist and tried about three different acne creams. The creams were so harsh on my skin and I literally couldn't use any product but Cetaphil. This hydrating lotion was the only product that didn't make my skin burn, sting and become red. In my book, it was a winner.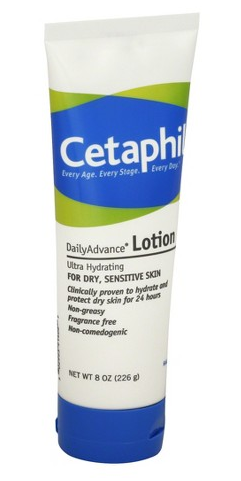 Cetaphil Advance Ultra Hydrating Lotion ($9.99)
Cetaphil's hydrating lotion is great for anyone with sensitive skin. It is a little heavy so I use it mainly at night, but it's totally fine to wear during the day as well. It makes my skin feel really smooth and moisturized. Plus, it doesn't have a fragrance and it's non-comedogenic, which essentially means it doesn't clog pores.
You can also use this Cetaphil product anywhere on your body, so it will save you from spending money on body lotion! It's dermatologist recommended and proven to hydrate and protect your skin for 24 hours. Trust me, if you have sensitive skin or need something to lock in moisture after using an acne cream, try this Cetaphil hydrating lotion.
Don't miss Kylie Jenner's skin care tip for oily skin and find out what your eyeliner type says about you!
[Photo: Target]