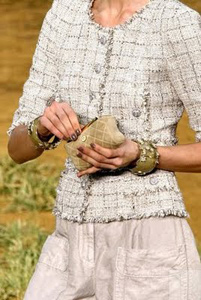 Chanel debuted their spring 2010 collection, which means, of course, they also debuted their spring 2010 nail color.  They've been getting tons of buzz for their latest shades, so we were quite interested to see what was next (thanks to All Lacquered Up for tip).
I like this color (Rococo sewage?) though it reminds me of something I wore when I was twelve, only to have my mother tell me my nails looked like dead person's.  That commentary notwithstanding, here are the shades I'll be sporting to fake the look until the Chanel Le Vernis is available:
Nars polish in Tallulah is a tad darker, but is a great fall color in and of itself.  Lippman's I Dreamed Of You is more pink, but gets the gray undertone just right.
Need more fall beauty?  We'd recommend perusing the best mascara, eyeliners, and paraben-free beauty.