No other item of clothing says "tough chic" quite like a motorcycle jacket can, as shown by Rihanna and countless other celebs that rock the trend. The best part about the look, though, is that while a new motorcycle jacket once meant spending big bucks on leather, many of today's versions go faux, like these great picks under $100. Eco-friendly AND pocket-friendly? Count us on board.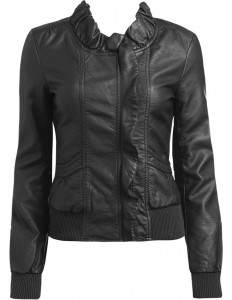 Arden B.'s Leatherette Ruffle Front Jacket ($69) takes a softer approach to the trend, with just enough feminine ruffles so that the jacket still has a tough vibe, but isn't too girly either. Add a vintage feel with a brightly covered silk scarf.
We love the crinkled, worn-in look of Delia's Dayton Bomber ($79.50). Add some over-the-knee boots and a plaid shirt peeking through and voila! The perfect fall get-up.
For a more sophisticated look, try this Artifacts Faux Leather Moto Jacket ($88) on for size. The tapered waist and buttery-looking faux-leather give it a work-appropriate air.
This ultra-stylish Ribbed Collar Leatherette Jacket ($37.80) from Forever 21 looks a lot more expensive than it is, so you'll have enough money leftover for a great pair of skinny jeans to wear it with.
Studs are everywhere this fall, including this Kenneth Cole Reaction Black Faux Leather Zip Moto Jacket ($69.99). Go for a grunge vibe by throwing on a slouchy beanie.
Peruse more under-$100 picks for the best in wallet-friendly military jackets and faux fur. And then shop our guides to the best eco-friendly fashion, over-the-knee boots, and skinny jeans.