The situation in Haiti prior to Tuesday's 7.0-magnitude quake was already one of the worst in the developing world. Now it's likely that things will become much worse. What can we do to help? The best relief we can provide is money. Yes, you heard right. Cold hard cash is what the devastated island nation needs more than anything; more than used clothes, toys, or any other donation you may be considering sending, which while thoughtful, is not always the most useful.
There are many ways to offer money. Your favorite charity is a good place to start (UNICEF, CARE, WFP, etc.), but if you don't normally contribute to a charity organization, texting is the fastest way to get money from your pocket to those in need. Just text "HAITI" to 90999, which automatically charges your credit card $10 to give to the Red Cross. Or text "YELE" to 501501 to donate $5 via Wyclef Jean's Yele Haiti organization.
If you want to reap a reward from your generosity, we have a few shopping-centric ideas that you might like.
Philanthrofashion.com is donating 100% of profits (or 50% of revenue, whichever is greater) on all purchase made through the end of the business today, Friday, January 15. These on-trend Indigenous Designs Urban Fingerless Gloves ($18) are just one option to help put clothes in your closet and cash in Haiti's coffers.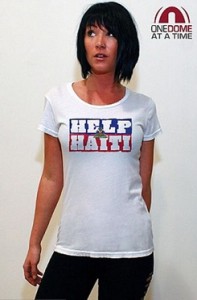 For tee-shirt lovers, Kid Dangerous Grime Couture has designed a simple, but useful "HELP HAITI" tee ($35). Proceeds will go to the One Dome At A Time Emergency Fund to rebuild houses in Port-au-Prince.
Erica Simon, a boutique jeweler has announced that proceeds from her Diyite Collection (from the Haitian word for dignity) will go straight to Sustainable Organic Integrated Livelihoods (SOIL), a non-profit that works to sustain soil resources, empower communities, and promote public health. You can buy one of these Peonia Necklaces handmade from seeds collected by women on Haiti ($16).
Cafe Press is selling tees, tops, water bottles, mugs, and more, and is sending a portion of the proceeds to UNICEF. This Haitian Child Watercolor canvas tote bag ($16) is not only pretty, but would make a great reusable shopping bag.
Over at Etsy, the ultra-fashionable Peace Images is sending 25% of proceeds to Wyclef's Yele Earthquake Relief Fund. I can't resist these Peacock Feather Earrings ($27) with gold accents, along with many of the other jewelry pieces.
Have another great idea about how to use fashion to help Haiti? Leave a comment to let us know.
For more from SheFinds about doing good, check out how to shop eco-friendly, where to get the best vegan fashions, eco-friendly undies, and our favorite reusable shopping bags.