Yesterday, all of you East Coasters experienced just how brutal the winter season can be. The "Bomb Cyclone," aka Winter Storm Grayson, hit the east coast region with below zero wind chills, freezing temperatures, and well over a foot of snow! Even southern states like Florida, Georgia and South Carolina received some surprise snow! That being said, it's time to bundle up in layers! But, you still want to look stylish while staying warm, right? These 8 winter coats will keep you warm and on-trend all winter long without putting a dent in your pocket–and a few of them are on sale!
Zara Jacquard Coat With Fringe ($59.99, originally $119.00)
The fringe details and cowboys boots and longhorn prints give this Zara coat has a Southwestern-chic feel! It comes in navy blue (pictured) or sea green. Wear it as a coat or layer it over top of your favorite t-shirt and jeans.
Zara Sequinned Coat ($59.99, originally $119.00)
Sequin-anything is always a good look during the winter season. This knit coat is adorned with tons of large, flashy sequins. This coat will make a statement layered over top of an evening or cocktail dress.
Forever 21 Shaggy Faux Fur Coat ($54.90)
Fur is definitely a necessity in the winter if you want to be both stylish and warm. This shaggy, faux fur coat is mid-weight and features a V-neckline and fashion-forward hot pink fur. Trust us, this coat will be sure to turn heads!
H&M Padded Parka ($79.99)
Parkas are one of the warmest, most protective coats you can buy for the winter. This metallic coat has a hood, a high collar, and elasticized cuffs to ensure warmth.
H&M Wool-Blend Bouclé Coat ($69.99)
Wool is one of the warmest materials a coat can be made out of. With its double-breast design and wide shawl lapels, this wool blend H&M coat will keep you warm and stylish all winter long!
Forever 21 Velvet Hooded Puffer Jacket ($44.90)
Puffer jackets have been making an appearance during the winter season for quite some time now. But this fuchsia color and velvet material give this Forever 21 puffer jacket an updated look. It comes with a hood, slanted pockets and warm sleeves.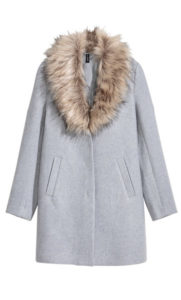 H&M Coat with Faux Fur Collar ($79.99)
If you can't decide between a fur coat, a pea coat, or a trench coat, you no longer have to choose–this is the perfect coat for you! It is made of wool material and has a detachable fur collar.