Though we don't know much about what's in store for us from the Mulberry Fall/Winter – excuse us, Autumn/Winter – 2013 show, consider us intrigued by their butterfly-shaped invitations (below).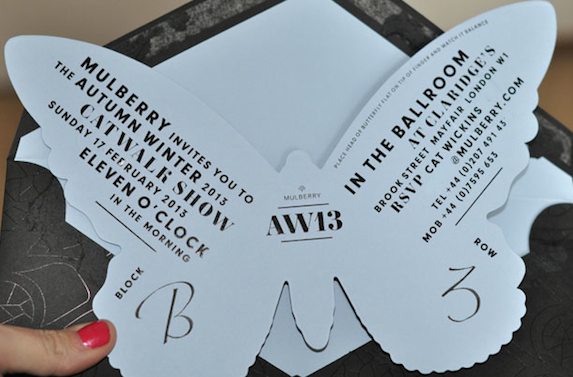 What do they mean? Could it be that butterfly prints and motifs are going to incorporated in the collection? Or that the looks will be lightweight and ethereal? Maybe it doesn't mean anything at all, but now we've just got to know! Lucky for us, the show just started streaming online. Click below to watch the Mulberry fall/winter runway show now.
For more fashion week, check out the full livestream schedule for London Fashion Week, check out 7 stand out trends from NYFW and listen to the playlist from Milly's runway show.