Whether you're saving on food costs by DIYing, or just looking for a refreshing summer recipe to give your caterer, Seattle-based chef and entertaining guru Heather Christo comes to the rescue. Heather whipped up 2 simple and delicious appetizer recipes just for our readers: Green Gazpacho with Shrimp and Grilled Clams with Tomatilla Bacon Salsa. Drooling yet?
Green Gazpacho with Shrimp, (serves 6)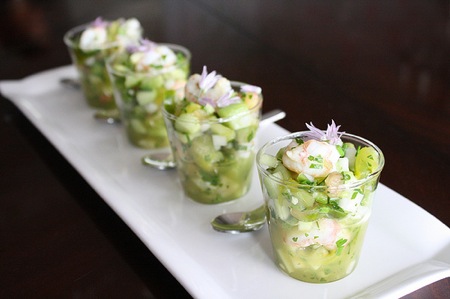 Ingredients: 1 ½ cups English cucumber, peeled and diced (should take 1 cucumber), 2 ½ cups green tomatoes, cored and diced, 1/2 white onion, diced, 1 large jalapeno (diced), 1 large lemon, 2 Tbs red wine vinegar, 2 Tbs parsley (minced), 2 Tbs chives (minced), 1/2 cup raw rock shrimp (rinsed and drained), Kosher salt and hot sauce to season (optional), Chives or chive blossoms to garnish.
Directions:

1) In a large bowl, combine the cucumber, tomatoes, onions and jalapeno. Stir to combine.

2) Add the juice of one lemon, the vinegar and the herbs. Toss to combine.

3) Season with Kosher salt and hot sauce if desired.

4) Fold in the shrimp.

6) Cover with plastic wrap and store in the refrigerator for at least an hour or two or until everything is well chilled, the shrimp have cooked through with the acid and the flavors have melded.

7) Serve garnished with fresh chives or chive blossoms
Grilled Clams with Tomatillo Bacon Salsa (serves eight)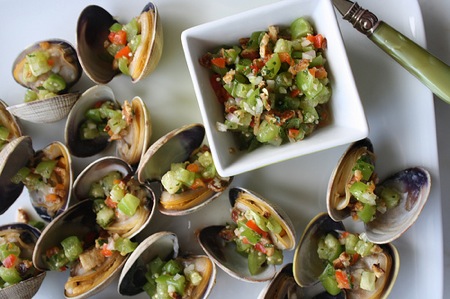 Ingredients:

2 lbs clams. And for the salsa: 6 medium sized tomatillos (small diced), 1 medium shallot (minced), 1 jalapeno pepper (minced), 2 slices bacon (cooked to a crisp and crumbled), 2 Tbs cilantro (minced), 2 tsp oil, 1 limes juice, Kosher salt to taste.
Directions:

Clams

1) Preheat a grill to high.

2) Rinse and drain the clams.

3) On the hot grill, place a sheet of tin foil, and then place the clams on the tin foil.

4) Curl the sides of the foil up around the edges of the clams to try to contain the heat and the juice.

5) Remove the clams immediately after their shell has popped, and try to contain any of the remaining liquid inside the shell of the grilled clam.

6) Place on a platter and spoon a small bit of the Tomatillo Bacon Salsa over the top of the clams, and extra salsa on the side.

7) To eat, simply pick one up by the empty half of the shell, and use it as your spoon to scoop the clam and the salsa out of the shell.

Tomatilla Bacon Salsa

1)In a small bowl, combine the tomatillo, shallot and the jalapeno pepper.

2) Add the crumbled bacon and stir to coat.

3) Add the minced fresh cilantro, the oil and the lime juice.

4) Combine everything and season to taste.
Shop our guides to the best inexpensive wedding dresses, strapless wedding dresses, and simple wedding dresses now.