Claire Wyckoff  uses her Nike + app (and her own two feet) to draw pictures of dicks. Well, mostly dicks. Her tumblr Running Drawing features drawings of her running routes around San Francisco, which usually take the shape of a peen (small, big, you name it). Claire is also skilled at running drawing aliens and the heads of Amish ladies. Obviously we have so many questions for the lady who mastered the Nike + dick pic. How did she get started? What will she draw next? We did a quick Q&A with the legend herself to find out more about her tumblr.
SHEfinds: Where did you get the idea to start Running Drawing?
Claire Wyckoff: I was running one day and I realized there was potential to draw really important things so I thought, "Why not dicks"??
SF: What has been the most difficult run to draw so far?
CW: Penises. The streets of San Francisco are hard and cornered. So finding a run that would accommodate the ballsack I was looking for was hard. No pun intended.
SF: Do strangers give you looks for running in odd formations to make the shape?
CW: Don't even get me started. I'm an artist. I'm always trying but I take a tip from Naomi Campbell– when in doubt, throw a f**king phone. Either way, I typically run through problems because I don't want to be fat…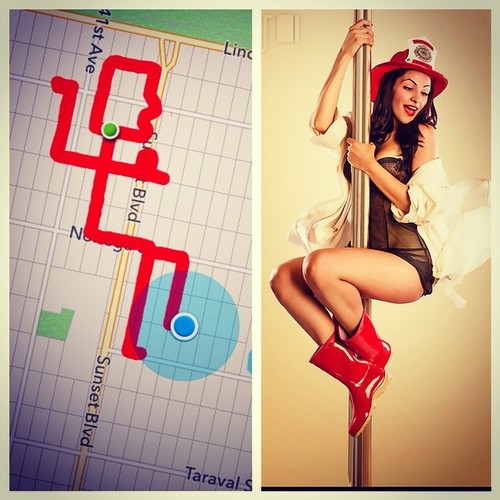 SF: Have you ever messed up a shape and have to go back/improvise a new one?
CW: No.
SF: Some of your posts say "We ran." Who are you running with?
CW: I run with my husband, David. He's the real hero. He married me. He should receive community service hours. 
SF: What are you going to draw next?
CW: I think you know.
There you have it, Claire Wyckoff never messes up her drawings and she WILL continue to run in the shape of penises. Hat tip to you, Claire for giving us a reason to get off our lazy butts and go for a run.
And don't forget to check out: shop Christian Louboutin nail polish, the SHEfinds staffers #WCW and TOMS rainboots for kids
[Photo: Running Drawing]