The Best Acne-Fighter For Women Well Beyond Their Teens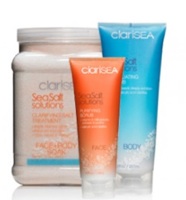 Even though I am well past the teens, I still encounter breakouts from time to time. Unfortunately, most of those over-the-counter formulas are intended for skin much younger than mine. I want something gentle but effective, and something that will make my skin look and feel great on a daily basis. The best solution I've found is Clarisea, a skincare system designed to clarify and heal.
Founder Alison Carton noticed how salt water remedied her chronic acne, so she created a formula that contains a balance of minerals that is strong yet sensitive. Clarisea has solutions for both the face and body that fight bacteria, banish breakouts, and leave your skin soft and smooth. As far as I'm concerned, that's a skincare line worth a good soak.
Price: starting at $14
Get Yours: clarisea.com