We all know that oversize totes can wreak havoc on our backs and our posture, thus causing long-term back pain and short-term frump-dom. Carrying an oversize bag also hints that you've been wearing the same thing since '06. Nix that bad habit of dragging everything but the kitchen sink with you and switch over to what fashionable ladies now carry: sensible, compact, long-strap bags.
Here are five perfectly cute picks that will make you look very 2010 and put the old decade behind you.
This Tory Burch Bijou Clutch ($350) is a classic in the making with a fresh chainlink strap and the ubiquitous, shiny gold logo from one of our favorite designers.
Couture can come in small packages, like this MARC BY MARC JACOBS Classic Q Derby Leather Crossbody Bag ($188) available in tan, grape, or cream. It's simple, but it's the perfect size for all of your necessities.
A slightly larger, yet still compact style, is this slim Rebecca Minkoff 'Love Letter' Suede Crossbody Bag ($435). In vibrant violet suede with geometric details and goldtone accents, this is both practical and pretty.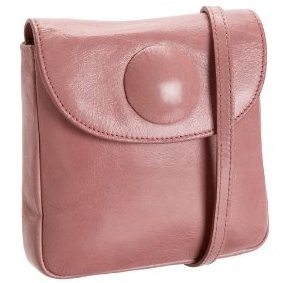 Truly simplify your life with a Di Cross Body Button Flap Bag ($98) in one of four colors. Under the button-adorned exterior you'll find credit card slots, a zip pocket, and plenty of space for your cell, compact, keys, and more.
Finally, the Foley + Corinna Disco Bag ($198) is a multitasking, miniature size day bag that doubles as a clutch, upping the cool factor on this classic. Plus, it comes in three colors so you can choose your favorite.
Still looking for the perfect way to update your handbag collection? Try our guide to the best bags. You can also check out some inexpensive bags or these top of the line designer classics.