Are you a pear, hourglass, rectangle, apple or full figure woman? We can't keep track of all the fruits, veggies and geometrical categories our bodies have been stuffed in to. Let's put all the labels aside and come to an agreement: If you're larger than average (whatever that is), or just feel like you're having a fat day, then it's possible to dress skinny. But forget size and numbers. The goal is to dress in a way that flatters your individual shape. But you'll find it hard to look at yourself in the mirror (even in well-fitting clothes) with the wrong mindset.
If you need a boost with creating a healthy lifestyle, try an app like Noom. It syncs data from your other weight loss devices and provides an intuitive, motivational platform for healthy, sustained weight loss. Foods are divided into three colors and you don't need to count calories. It's basically like having a bestie in your back pocket–one who's always ready to build you up and hold you accountable for your eating and exercise habits without making you feel badly.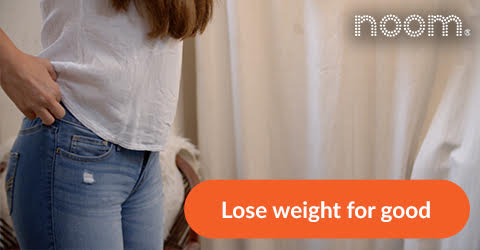 Now that you have your mind right, back to fashion. We keep these closet essentials around for those yucky, meh days when nothing looks good and we feel fat.
Clothes That Make You Look Skinny
Sheath Dress

Get ready to show off your amazing legs. If you feel fat but want to look skinny, a sheath dress with crisp straight lines glosses over your whole body. Creating a waist is not the goal here. Your legs will be doing all the work. Keep the hem as short as you can (without being nasty!) and choose a dress in a solid color. A pair of oversized earrings is a must. A body shaper is not negotiable.
Blouse

Please note: a blouse is not a t-shirt. It's a top that is made of fine material and has a nice design and detail. But T-shirts are so comfortable, you say. We respond: No one ever said a blouse was uncomfortable! It's just a way to refine your appearance and make you feel good about yourself on those days you feel off. Look for pieces that provide structure. Consider wearing a blazer or jacket with seams and darts that give you shape over a button-up blouse. Take advantage of the open collar and wear a fun necklace.
Wide-Leg Trousers

You can instantly lose 10 pounds and add a few inches to your height with a pair of beautifully tailored wide-leg trousers. Don't hide your body under layers of lose fabric when you feel fat. Well-tailored pants with a simple blouse (see above) and kitten heels (see below) will completely transform your appearance to skinny. The pant legs fall straight from your waist down to your ankle in a beautiful waterfall of fabric.
Fun Shoes

Howdy, cowgirl! You don't need to swoon over Thomas Rhett and wear a ten-gallon hat to work a pair of country chic boots. In fact, you don't even have to know who Thomas Rhett is (but we can assure you he is insanely cute). Fun, eye-catching footwear like Western-style boots with cute trousers or a sheath dress will make you smile. Accessories just have a way of making us feel happy. Look for boots with modern updates such as mesh, metal studs and velvet. Consider flats or kitten heels as an alternative to your everyday sneaker. A metallic shoe presents neutral and will pair well with denim (see below) or trousers. You can add a jeweled shoe clip for dinner out with the girls. If you prefer a nude shoe, make it patent leather for an extra pop.
Bootcut Jeans

Is your closet filled with denim in all cuts and colors? Same. On fat days we reach for a boot cut pair: it's fitted in the thigh but becomes slightly wider from the knee and down the calf. This look can balance out the size of your thighs. Avoid all-cotton jeans. They feel stiff and you want to get those off a soon as possible. Denim should have 1 to 4% Spandex so you have room to move and jeans won't lose their shape.
The editors at SheFinds wrote this article in partnership with Noom.