Club Monaco is on a tear. First, they release a 3-piece capsule collection with high-end jewelry designer Erickson Beamon, and now they've just released 2 more exclusive designer lines in one fell swoop. You can now shop Jane Mayle's suede, leather and metallic handbags priced $195 to $595, and cozy M.Patmos knitwear (check out the dolman sleeves and super-soft cashmere) on Club Monaco's fairly-new e-commerce site and on Shopbop now. This is a particularly sweet collab, since Jane shuttered her brand in 2008, much to the dismay of her New York fan base, and hasn't designed since. Shop both collections here.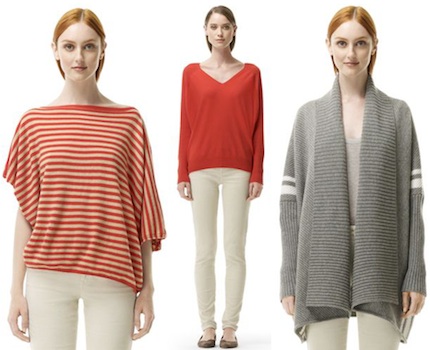 M.Patmos x Club Monaco
For more collaborations we love, check out Pamela Love x Nine West, Rob Pruitt x Jimmy Choo, and MAC's Marilyn Monroe collection.
[Photo: Club Monaco via ELLE]