If your local weather seems to be forever fluctuating between high and low temperatures then you're definitely preparing for the colder winter season. One thing's for sure, warm cozy coats can ultimately be seriously expensive but that doesn't stop it from being an absolute essential at the end of the year. And sometimes, you don't want to sacrifice warmth for an affordable price (nor should you). Luckily, there are many retailers who understand that you're looking for durable yet fashionable coats that will last you all fall and winter long. With that said, there are tons of ways to shop coats under $100 before the temperatures really start to drop. Let's dive into how you can save big money and get your hands on all the best coats this year before they all sell out.
1. Faux Shearling Structured Jacket 
Faux shearling jackets are back again this season to keep you nice and warm. This structured coat from Nordstrom has the best structured slouchy fit that will keep you stylish even in the coldest of months. If you love the look of your fall moto leather jacket then this faux shearling option for the winter is definitely one of the best picks for you.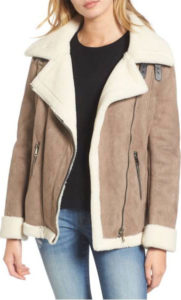 Nordstrom Vigoss Faux Shearling Oversized Jacket ($89.00)
2. Bouclé Yarn Coat
Another warm and affordable coat under $100 is this bouclé yarn coat from H&M. The classic look and fit can easily be both dressed up or dressed down. It would look just as good over a simple dress as it does seen here on a model wearing ripped jeans and loafers. Want to know the best part? It's just under $70!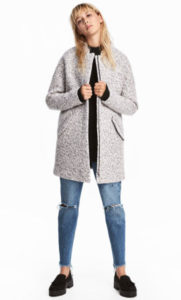 H&M Coat In Bouclé Yarn ($69.99)
3. Teddy Bear Faux Shearling Coat 
It's no secret that oversized teddy bear coats are trending this year. And you can get a pick of your own from Forever 21 for less than $30. This open-front faux shearling coat is seriously so affordable, and is available in both black and camel colored options.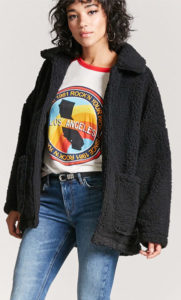 Forever 21 Open-Front Faux Shearling Coat ($27.90)
4. Felted Trench Coat 
If you're looking for the cozy trench coat of your dreams then you don't have to look any further than H&M. This affordable light taupe felted coat is perfect for bundling up on chilly days. Be sure to order yours or pick it up in an H&M store for less than $70!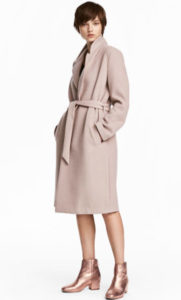 H&M Felted Coat ($69.99)
5. Faux-Fur Leopard Coat 
Who doesn't love a good leopard print? While this coat is more of a bold pick, you can still rock it with a few simple staple pieces. So, be sure not to miss this new arrival at Old Navy and buy yours today for less than $70. You should definitely consider making this faux fur leopard coat your go-to statement coat this season.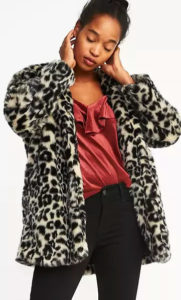 Old Navy Collarless Faux-Fur Coat ($69.99)
We've got you covered on all of the fall and winter fashion tips and deals that you need to know this season. For more, make sure to check out how to clean leather boots, five pairs of leggings that don't look like leggings, and how to upgrade your fall look with ways to wear a scarf.
[Photo: Shutterstock]