The majority of brides are working with a budget when planning their wedding, so it's tempting to cut costs anywhere you can. But getting too wrapped up in nickel and diming your big day can lead to these 13 mistakes, so beware.
Too much DIY.
Not all of us have Martha Stewart's abilities when it comes to taking on DIY projects. In fact, it doesn't always mean you are saving money, says Keneshia (Kay) Raymond of Blissful 2 Be. "It can actually cost more to DIY if you have no idea what you are doing."
Not hiring a professional photographer.
Besides the memories, and your marriage, nothing you buy, rent, etc. for your wedding lasts long past the day of the event—except your pictures. "If you're investing in the venue, the dress and everything else, you want to make sure that all of that investment is captured," says Caroline Bailly, owner of L'Atelier Rouge.
Skipping the paper invite.
Many brides cut corners by sending out online invites or simply setting up a wedding website with all of the important info. But the invitation really sets the tone for your wedding, and you don't want that first impression to say this is going to be a cheap affair. "Your guests are spending a lot of money (especially those out of town) to make it to your wedding, don't set the tone by sending them a link," says Kayla Pickrell of Designs by Kayla.

[Photo: Erich McVey]
Sacrificing guests' comfort.
It might be tempting to sacrifice your guests' comfort in exchange for the fluff and puff. For example, not providing comfortable chairs for that outdoor wedding ceremony in exchange for providing expensive flowers for the bridal party, or hosting that outdoor reception in a park to save money, without providing shade protection for your guests. "Guests comfort comes first and should be your main consideration," says Greg Jenkins of Bravo Productions.
Asking friends and family to help.
Asking your aunt to make your wedding cake or your BFF to arrange your centerpieces might seem like an easy way to save, but it will most certainly cost you in stress. Of course, if a close friend or family member is a professional--and they want to perform the service as their gift to you--then you can consider it. But remember, guests at your wedding are supposed to have fun, not be put to work on the big day.
Going with the cheapest vendor.
"Some brides hire the most inexpensive suppliers, such as a DJ or photographer, only to complain and find themselves on a 'Judge Judy' episode because they didn't get what they thought was quality," says Jenkins. "The rule of thumb is you get what you pay for. If your wedding photos are important to you or you want a top-notch DJ, you have put money towards the most reputable services and pay the costs."
Having a cash bar.
Cheap liquor or asking guests to pay for their drinks is a no-no. If the bride opts for a hosted bar, perhaps just provide assorted beer, good wine and a specialty drink if one cannot afford to add premium alcohol as an expense, says Jenkins.
Plugging in your iPod.
Many couples elect to use their iPod as their DJ instead of paying the money and using a good wedding DJ company. "The Wedding DJ is critical," says W. John Wheeler of Kaleidoscope Events. "We do a lot more than play dance music…we plan the couple's reception timeline, act as the face of their entire wedding (as their emcee), provide high quality audio equipment, and of course, read the crowd and play dance songs accordingly. I can't tell you how many times a couple has given me a list of songs to play and none of them worked."
Having the wedding at home.
If you truly want a backyard wedding at your parents' house, then go for it. But if you're doing it because you think you'll save money, think again. "By the time you add up electricity and clean up, set up, tables and chairs, shelter, this often is more expensive than a venue," says Jay Farrell of Jay Farrell Photography.
Rushing to a sample sale.
"A number of brides I know went to a sample sale for wedding dresses as soon as they could because they wanted to save money on the dress," says Anne Chertoff of Twirl New York. "When your first stop is a sample sale, you are being rushed to make a very important decision, and I've seen brides buy a discounted designer gown for a steal (from $10,000 to $2,500) but then a week later decide that maybe it wasn't 'the one' and go to a salon, fall in love with another dress and now they have two gowns, one of which she won't wear and don't know what to do with. So take your time when dress shopping, there will be another sample sale in a few months!"
Understaffing your wedding.
Some couples try to save money by not hiring enough staff for the wedding, says Chertoff. "Not having enough waiters, bussers, valets or bartenders will impact your guests' experience. No one wants to wait 10 minutes to get a drink because there is one bar tender for 125 people or wait for their dinner because one waiter is serving four tables."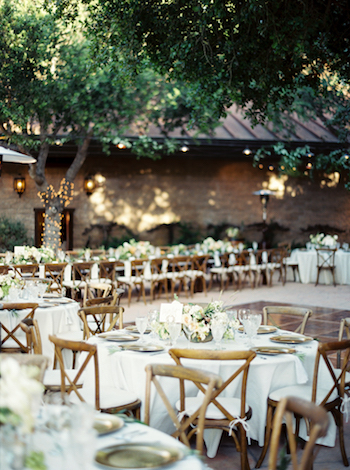 Choosing a cheaper venue.
Couples might choose a "cheaper" venue, but don't take into account if they are all-inclusive or supply rentals, says Samantha Wiley, Chancey Charm Charleston Wedding Planner . "Some all-inclusive venues have high catering minimums you have to meet that can put you over budget if you don't allocate accordingly. Other venues might be less expensive, but all you get is the venue, so you need to take into account paying for tables, chairs, linens, dinnerware, glassware, etc."

[Photo: Erich McVey]
Forgetting to factor in service charges and taxes.
You've been carefully charting your budget in a spreadsheet and everything is perfect—it comes down to the exact dollar amount you wanted. But make sure you've read your vendor contracts carefully and factored in service charges and taxes," says Skylar Caitlin, Chancey Charm Houston Wedding Planner. "Service charges can run from 22-30 percent and can come from your venue, caterer, beverage service, or a variety of your other vendors. Taxes vary from state to state, but can heavily affect your budget's bottom line."

[Photo: Erich McVey]