The New Year is coming, and with it comes a fresh crop of wedding trends. Find out what to expect in everything from invites and entertainment to flowers and food in 2017.
[Photo:
Erich McVey
]
A Return To Glamour
Forget about rustic—it is officially out for weddings in 2017, says Kim Sayatovic of Belladeux Events. "We're seeing a return to over-the-top decor. Couples are thinking big for 2017 for all elements of their wedding design--florals, linens, lighting and more."
Comfort Foods
Many couples are incorporating family recipes into their wedding day menus, say the pros at The Willard InterContinental in Washington D.C. Think mom's meatball recipe used as an hors d'oeuvre or dad's BBQ chicken given to the chef to use in creating the meal.
Breakfast-Inspired Wedding Cakes
Want to go beyond the traditional wedding cake? Forget cupcakes and opt for a cinnamon roll cake, banana bread cake or coffee cake, says Alexis Matthews of Pechanga Resort & Casino.
Oversized Wedding Invitations
"We're seeing a lot of clients choosing our largest card size for their 2017 weddings," says Jacqueline Kotts of Mrs. John L. Strong. "The extra-large size definitely makes a statement and sets the tone for a swoon worthy event."

[Photo: Erich McVey]
Ombre Desserts
Ombre wedding cakes are going to continue to be super popular, especially with the pastels and neutral colors, say the pros at The Willard InterContinental in Washington D.C.
Soft Metallics
Glitter and gold was hot for the past two years, but more brides are leaning toward the softer side: copper, bronze and rose gold palettes or accents, says Erica Tevis of LittleThingsFavors.com. "Rose gold definitely outshines all the other metallics in terms of popularity."
Custom Items
Tevis is also seeing a trend from DIY to handmade and custom items. "While brides still want unique touches, they aren't leaning toward the do-it-yourself items as much as they used to," she says. "They are still looking for one-of-a-kind items that share the same DIY feel, but are handmade just for them and their wedding – saving them the time of assembly."

[Photo: Erich McVey]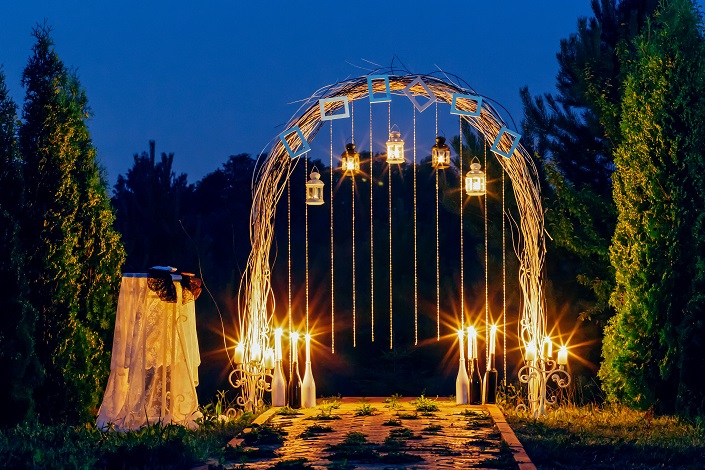 Grand Entrances
"We're forecasting breathtaking entrances to welcome guests—this could be a stylish red carpet greeting with champagne as friends and family arrive to lining an aisle with Moroccan rugs and pairing it with distinct chairs," says Fabrice Orlando of Cocoon Events. "A grand entrance warms people up to each other and builds excitement to what lies ahead."
New Technology
Custom SnapChat geofilters will be to 2017 what wedding day hashtags have become for 2016, says Megan Velez of Destination Weddings Travel Group. "It can easily be designed by the couple and add an extra dash of personality to the celebration."
Daytime Events
According to Paula Ramirez of Historic Mankin Mansion, couples are expressing more of an interest in late morning and early afternoon weddings. "These are great for couples on a budget, as well as those who want some down time (or extra party time!) after the reception."
Local Booze
Craft beer and local brewed wine and liquor are hot trends to feature at your wedding, either on the bar as a signature drink or as a favor, says Jyl Deering, Chancey Charm Boston Wedding Planner. "It's a great way to support the local community, and have your guests try something new."
Beaded Gowns & Overskirts
When it comes to gowns for 2017, think clean fronts and gorgeous plunging beaded backs, says Liz Sellassie, owner of Designer Loft Bridal. And don't forget about gowns with overskirts. "Sofia Vergara caused a sensation with her form fitting gown and beautiful tulle overskirt over her contoured gown. Now new collections have tulle, organza, mikado and chiffon overskirts. Dramatic and beautiful!"
Embellished Sandals
Some brides no longer feel that it's necessary to wear heels, so they opt for a pair of dazzling embellished rhinestone flat sandals, says Connie Chee of De Blossom Collection. "The sandals still look gorgeous, but most importantly they give comfort for a bride to go on her big day without a hitch."
Pastel Flowers & Succulents
A 2016 trend that's here to stay, turn your wedding and reception into a lush, pastel-toned floral dream with unique plants like dried lotus, lamb's ear and green hydrangeas, says the pros at Pretty Polite. Keep it fresh by straying from the typical roses and lilies and updating your bouquets with trendy bloom-less plants and mini cacti.