Nicki Minaj vs. Miley Cyrus
In the days leading up to Miley's gig hosting the 2015
MTV VMAs
, she was interviewed by
The New York Times
and asked about the Nicki-Taylor Twitter feud surrounding the award show's nominations. Miley said Nicki was "not too kind" to Taylor and her reaction was "not very polite."
Nicki was not going to have that, and during her acceptance speech for "Best Hip-Hop Video" at the VMAs,
she called out Miley
by saying what became the most infamous line of 2015, "Miley, what's good?"
[Photos: Splash News]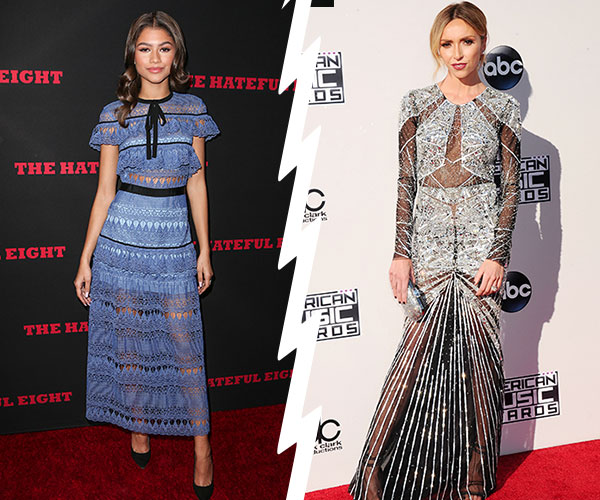 Zendaya vs. Giuliana Rancic
After Zendaya wore dreadlocks on the Oscar's red carpet, Fashion Police host Giuliana Rancic commented, "The hair to me on her is making her a little more boho. Like I feel like she smells like patchouli oil. Or weed."
Naturally, Zendaya took to her Instagram responding with, "There is already harsh criticism of African American hair in society without the help of ignorant people who choose to judge others based on the curl of their hair...To me, locs are a symbol of strength and beauty, almost like a lion's mane."
[Photos: Splash News]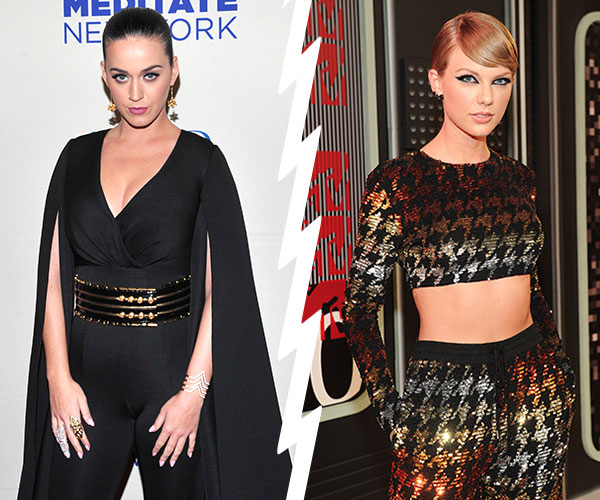 Katy Perry vs. Taylor Swift
Initially, Katy and Taylor became friends when they first met at the 2008 MTV VMAs. But that friendship quickly dissolved when Taylor said some not-so-nice things about Katy in her Rolling Stone interview, such as making accusations that Katy hired Taylor's dancers away from her RED tour. Then, Katy responded with her now-infamous subtweet referencing Regina George from Mean Girls, and there's the whole both dating John Mayer drama.
However, their feud really exploded in 2015 when Taylor made a questionable song and music video for "Bad Blood" (you might've seen it) full of Katy references, and Katy joined Nicki Minaj during Talor and Nicki's brief Twitter argument.
[Photos: Splash News]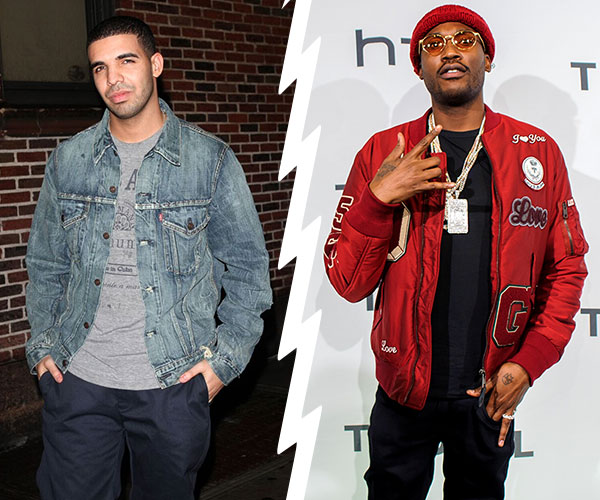 Drake vs. Meek Mill
What happens when Meek Mill accuses Drake of having a ghostwriter? He responds with not one, but two diss tracks: "Charged Up" and "Back to Back Freestyle". Meek eventually responded back with the track "Wanna Know." There was also tension over Nicki Minaj, Meeks girlfriend and Drake's close friend/regular collaborator/maybe one-time girlfriend. This whole thing was just very, very awkward.
[Photos: Splash News]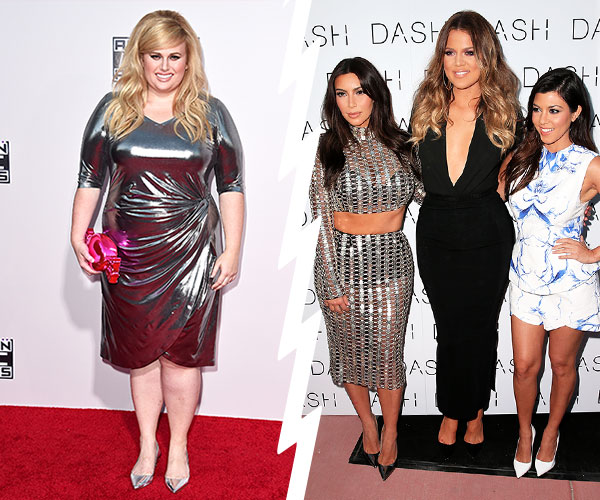 Rebel Wilson vs. The Kardashians
When Rebel spoke with Australian radio station KIIS FM in early November, she had some opinions on the Kardashian family, "It's not that I hate any of them individually, but it's just that everything they stand for is against everything I stand for," she said. "And they're not famous for talent. I worked really hard to get where I've gotten to." Afterwards, she later regretted her comments about the family and even sent them flowers as an apology. But it wasn't soon enough to stop the smear campaign she claimed the Kardashians started against her. So afterwards, she tweeted how, "I'd be very happy to debate the Kardashians anywhere / anytime / any topic."
[Photos: Splash News]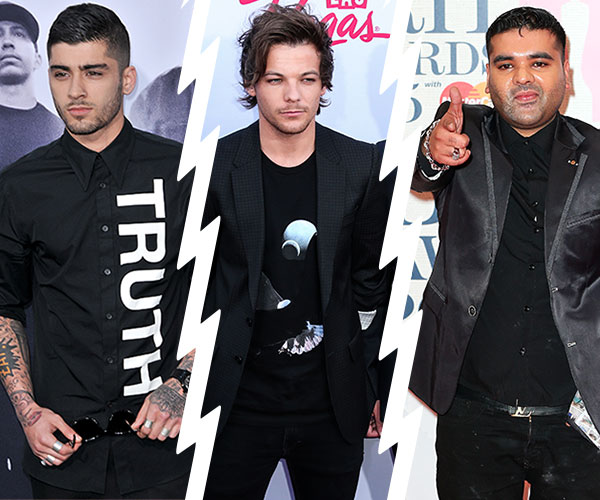 Zayn Malik and Naught Boy vs. One Direction
It's one thing to have bad blood with one person. It's another for it to evolve into two. We can't say we're completely surprised that after Zayn announced his sudden departure from One Direction, things started to become awkward. Zayn and producer Naughty Boy wound up getting into a heated debate with Zayn's former bandmate, Louis Tomlinson. They started insulting each other's talent back-and-forth on Twitter, and by the end of it, Louis said that Zayn was "dead" to them...
[Photos: Splash News]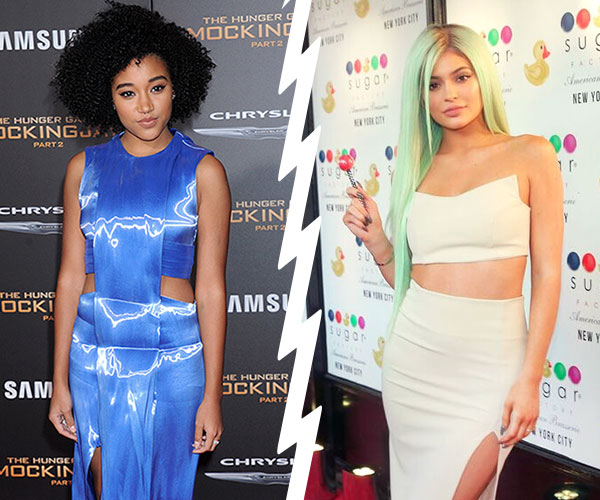 Amandla Stenberg vs. Kylie Jenner
In response to an Instagram photo of Kylie with cornrows, Amandla wrote, "When u appropriate black features and culture but fail to use ur position of power to help black Americans by directing attention towards ur wigs instead of police brutality or racism #whitegirlsdoitbetter." Kylie responded back with, "Mad if I don't, Mad if I do…. Go hang w Jaden or something." But clearly Kylie felt some type of way since she later took out the cornrows.
[Photos: Splash News]
50 Cent vs. Empire
50 Cent is clearly not fangirling over FOX's Empire, as he continues to accuse the show of ripping off his Starz series, Power. Taraji P. Henson (who plays Cookie) responded when asked what she thinks of 50 Cent's accusations by tweeting, "I pay attention to $'s NOT cents." B-U-R-N.
[Photos: Splash News]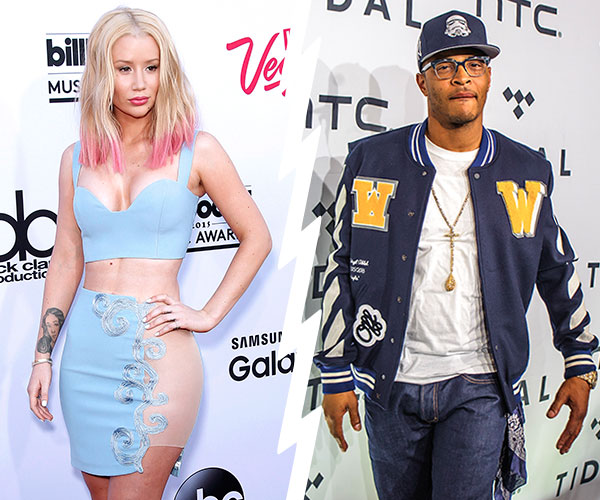 Iggy Azalea vs. T.I.
Back in September, T.I. said he's taking a "bit of a rest stop" and implied he's done working with Iggy. He shared this in an interview on HOT 97. This statement came right after Iggy got in a fight with Azealia Banks and was subsequently given a lesson about the history of hip-hop by Q-Tip.
[Photos: Splash News]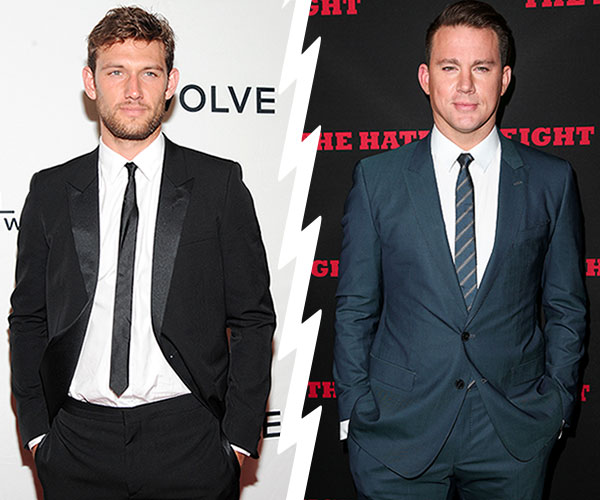 Alex Pettyfer vs. Channing Tatum
So it turns out Channing and Alex were not the biggest fans of each other while filming Magic Mike. Alex recently shared why he wasn't in Magic Mike XXL in a chat on Brett Easton Ellis's podcast B.E.E., "Channing Tatum does not like me. I didn't speak on the movie. I was scared to speak. I was very insecure as a human being and that also gave me a bad rep because they said, 'Oh, Alex thinks he's f*cking better than everyone else because he doesn't speak to anyone,' and that's not true. I was just genuinely nervous and scared to be myself." Then, Alex revealed how Tatum even sent him an email saying, "Don't f*ck my friends. You owe money. Pay the f*cking money. Don't be a clown," in response to Alex being late on paying for an apartment he leased from Channing's friend.
[Photos: Splash News]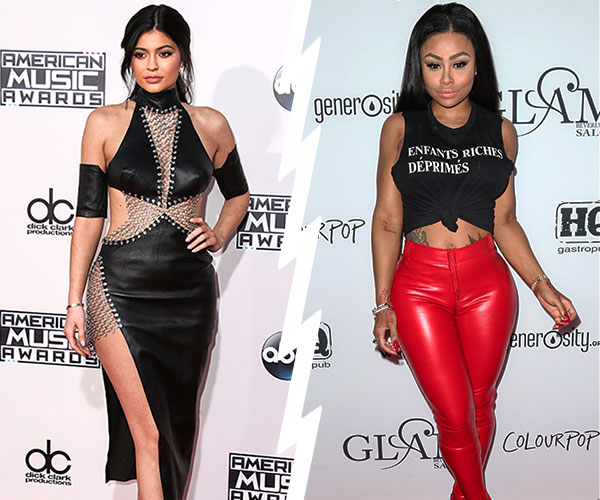 Kylie Jenner vs. Blac Chyna
One word: Tyga. He is why Kylie and Blac's issues started. It all started when Tyga was engaged to Blac and dumped her for a then-underage Kylie in 2014. Yikes... Then, immediately following that sequence of events, both women began tossing insults back and forth on social media. At one point, Kylie posted a photo of herself wearing an Audemar Piguet watch on Instagram, which happens to be identical to a watch Tyga once gave Blac, and naturally Blac immediately responded with several #tbt shots of her getting up close and personal with Tyga and a photo of her mocking Kylie's infamous lips. This feud got so intense that it led to Amber Rose and Khloe Kardashian getting involved and heating up their own feud.
[Photo: Splash News]
Amber Rose vs. Khloe Kardashian
In February, Khloe and Amber got involved with the Kylie vs. Blac Chyna feud on Twitter. Then a radio interview with Amber included her commentary on Khloe's little sister Kylie's underage relationship with Tyga. Khloe responded by lashing out on social media and bringing up Amber's former career as a stripper (ouch). It got so bad that even Khloe's brother-in-law and Amber's ex, Kanye West, was dragged into it.
[Photo: Splash News]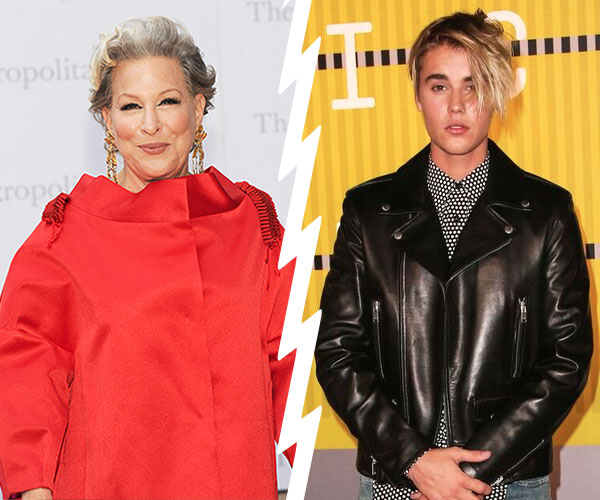 "Britt Meddler" aka Bette Midler vs. Justin Bieber
It all started when Bette Midler tweeted about Justin Bieber's nude photos and how his father awkwardly gave them his stamp of approval. Midler tweeted, "@justinbieber dad tweeted he's proud of his son's penis size. I think the biggest dick in this situation is the dad who abandoned his son." Bieber responded with a tweet asking who Midler is but referring to her as "Britt" instead of "Bette". Midler chimed in by saying how she has no idea who "Britt" Midler is either.
[Photos: Splash News]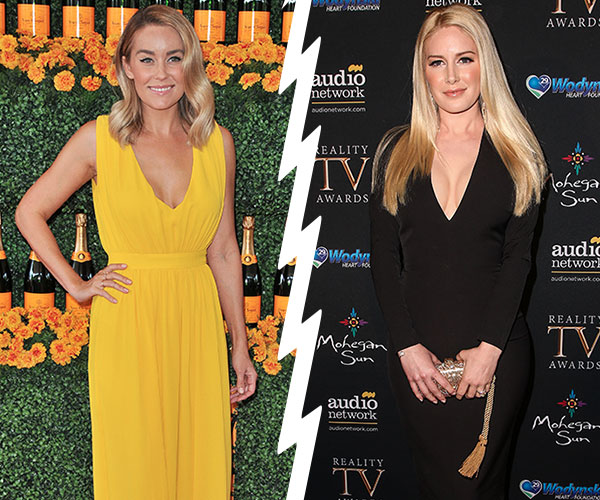 Lauren Conrad vs. Heidi Montag
No, it's not 2007, but their strong feelings for each other are still there years later. Heidi Montag resurfaced the early 2000s drama between her and LC in an interview with Complex back in October. Heidi shared, "I spent years pretending to like her for a living, and it wasn't pleasant,"... yikes.
[Photos: Splash News]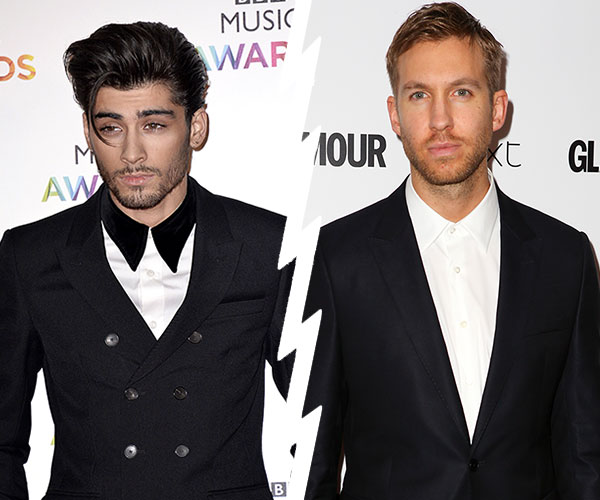 Zayn Malik vs. Calvin Harris
In August, Zayn retweeted an account that pointed out that Miley Cyrus released her latest album for free, because she already has enough money she could ever need, while Taylor Swift pulled her music from Spotify because she was not getting paid. Calvin, who is dating Taylor Swift, saw the retweet as a dig at his GF so he rushed to her defense. A heated Twitter exchange took place between Zayn and Calvin ending on this hilariously entertaining note.
[Photo: Splash News]