Who doesn't love brunch? Everybody loves brunch–it's a fact of life. They say breakfast is the most important meal of the day and when you get to sleep in a little bit before breakfast, you have brunch. The occasion means weekends, girlfriends, mimosas, and most importantly, brunch outfits. There's nothing better.
If you're hunting for great Sunday brunch outfit ideas, look no further. We have style inspiration for everything from casual brunch outfits to dressy brunch outfits ideas.
Sunday brunch, or brunch on any day for that matter, is great for a number of reasons. First, as we mentioned, you get to sleep in. There's no need to get out of bed earlier when brunch in on the schedule, just roll out a little before noon and you're golden. It's the perfect start to a lazy Sunday. Second, brunch lets you eat two meals in one–solving the annoying task of trying to figure out what you're going to eat for your meals that day.
Don't even get us started on the brunch menu. From eggs benedict, pancakes, avocado toast, waffles, bacon–the mouthwatering list goes on and on. Nothing can top brunch foods. Honestly, it's making us hungry just thinking about it right now! And if your brunch spot has bottomless mimosas (which the best brunch locations do, of course), then your day is made, girl!
Now, onto the really important stuff–brunch fashion. The question of what to wear to brunch is a tough one. Possibly the most exciting part of brunch is the ability to dress up in cute brunch outfits. Not that mimosas and avocado toast aren't important (because they are, duh), but everyone knows us women live for dressing up with our girlfriends at brunch. Brunch style provides us with the perfect Instagram photo moment. If you go to brunch with your girlfriends and don't post a boomerang of you clinking your mimosa glasses, did you really even go to brunch? We don't think so.
So, when you know brunch will call for an impromptu Instagram photo shoot, you need to be readily prepared with the best brunch outfits imaginable. Scroll down for some brunch style inspiration, so you can look flawless at your next outing for the 'gram.
1. Jeans + teddy coat + sneakers + graphic tee
If you're looking to dress a bit more casual, yet still incredibly stylish, take note of blogger Nathalie Kemna's outfit. We love how the on-trend teddy coat pulls the whole look together. You can wear pretty much any tee underneath, judgment-free.
2. Camel coat + chambray shirt + jeans + floppy hat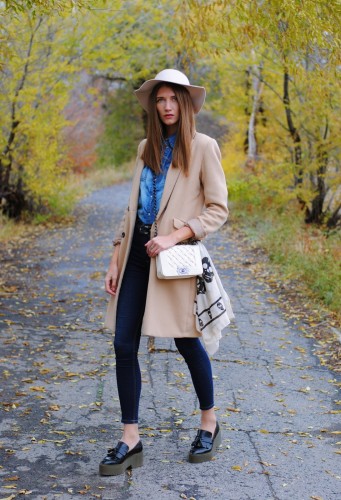 Brunch doesn't stop for anything–not even a little bad weather. If it's set to be a little chilly or rainy, this outfit idea from Yulia Si is key. Plus, tying a scarf on your handbag is one of the oldest styling tricks in the book.
3. Tucked in blouse + camel coat + flirty skirt + sheer tights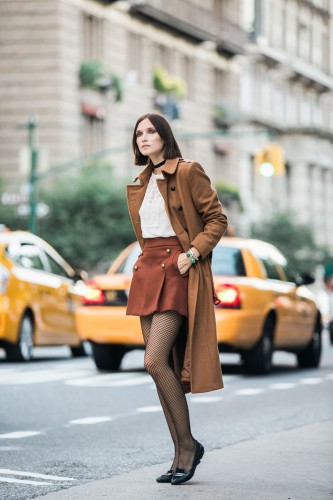 If this is a brunch date, or you're just in the mood to dress up a bit more, Ania.B's outfit of a simple skirt and tights with a tucked in blouse will never fail.
4. Nice sleeve shirt + mom jeans + statement loafers
This casual brunch outfit is anything but casual. Pair a nice statement shoe, like these fun loafers, with mom jeans and a nice top to look effortlessly stylish for brunch, like Stelouche Babouche.
5. Cashmere sweater + layered button-up + black jeans + heeled booties
Brunch attire doesn't have to be girly, this all-black ensemble that Fire On The Head is wearing looks super chic for the weekend. Layer a white button-up under a cashmere sweater to make your outfit look polished.
6. Long overcoat + denim button-up + light-wash denim jeans + booties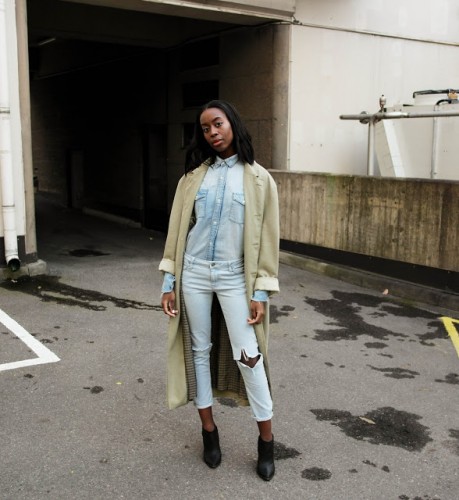 Rock denim on denim for brunch, like Sylvie Mus. Break up the color scheme with an overcoat of a different color and your favorite booties.
7. Feminine blouse + overalls + heels+ + statement clutch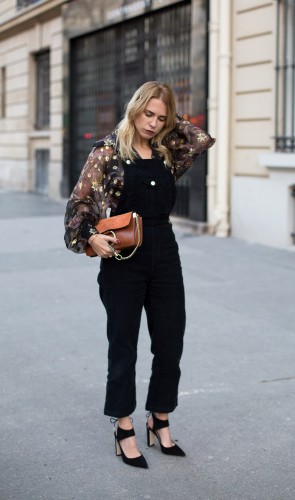 Dress your overalls up with an elegant blouse underneath them, like Always Judging does here. Worn with heels, you'll look flawless.
8. T-shirt + high waisted jeans + red pumps + leopard print handbag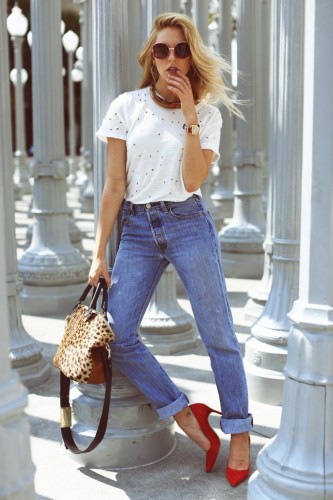 You can't go wrong with jeans, a t-shirt, and heels. Adding in pops of color or pattern like Peace Love Shea did will make your outfit look well thought out.
9. Cashmere sweater + layered button-up + mini skirt + knee-high boots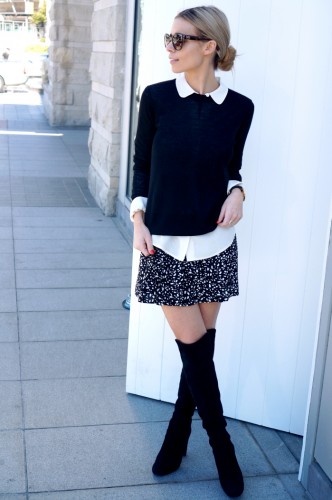 Dress a little preppy for brunch like The Pearl Oyster, we encourage it! An ensemble like this one looks classy and polished for brunch.
10. Oversized button-up + slouchy trousers + chunky heels + neutral clutch
An oversized button-up and trousers don't have to look frumpy. Done correctly, like Always Judging here, and worn with chunky heels, you'll look like you're walking the runway.
11. White collared shirt + high-waisted jeans + classic pumps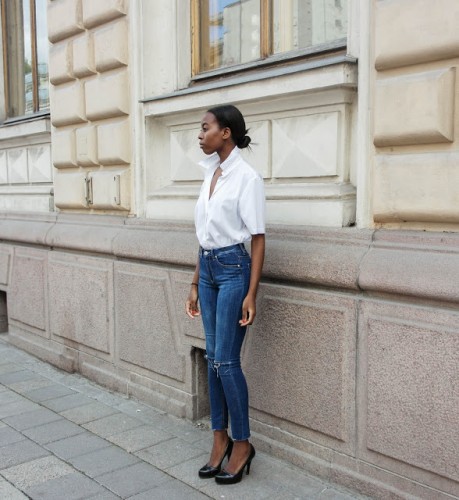 Don't be afraid to go back to the basics, like this outfit by Sylvie Mus. A white t-shirt, blue skinny jeans, and simple pumps–a classic.
12. Patterned maxi dress + slip-on mules + statement tote
Looking for another outfit you can throw on in a hurry but still look cute? Take note of Always Judging, here. Wear a patterned maxi dress and a statement handbag.
Looking for more outfit inspiration? Check out how to wear mules this season with the help of this cute outfit inspiration!
Sol Sana Tabbie Leather Platform Loafers ($79.99)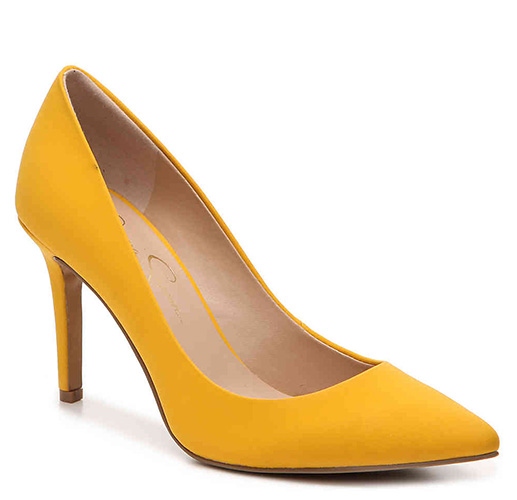 DSW Jessica Simpson Levin Pump ($49.98)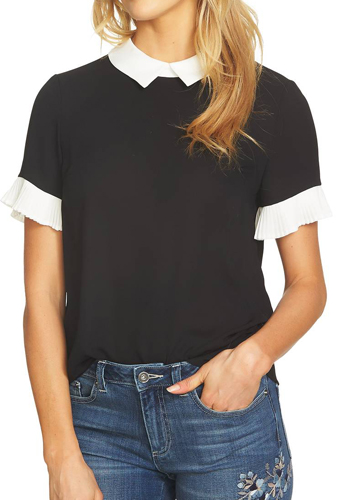 CECE Pleat Sleeve Collared Crepe Blouse ($79)
MADEWELL Abroad Trench Coat ($138)
AG Liya Corduroy Overalls ($245)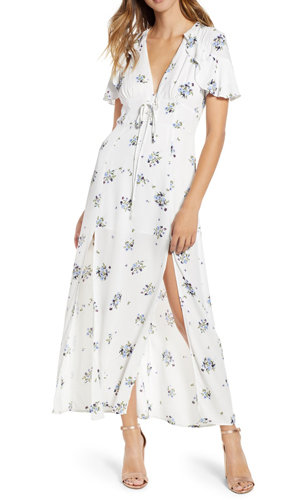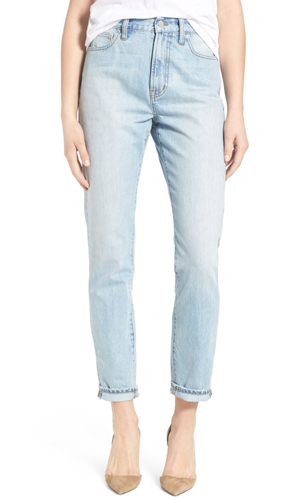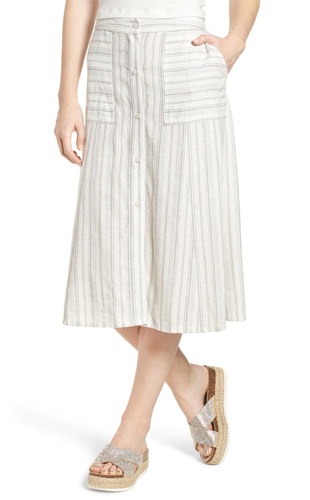 SheFinds receives commissions for purchases made through the links in this post.