We try and weave anti-inflammatory foods into all of our meals. They're delicious, can help prevent weight gain and make our bodies allover healthier. Breakfast is our favorite meal of the day and a great opportunity for anti-inflammatory food to shine. These are the ones we always eat. Have fun creating new preparations and combos!
Berries
Start with a cup of mixed berries, says Stacy Goldberg, a nutritionist at savorfull. "Blackberries, blueberries and raspberries are high in fiber and will make you feel full and satisfied," she says. Berries are bursting with natural sweetness and you can eat way more of them without worrying about the scale. For example, one cup of slices strawberries is only 50 calories. A half-cup of raspberries gives you 4 grams of fiber, blackberries 3.8 and blueberries or strawberries 1.7 grams. All berries are high in polyphenols, micronutrients that combat cellular stress by slowing down and blocking the inflammatory response in the body.
Almonds
Grab a handful of almonds to pair with the berries. Eating low-calorie, anti-inflammatory nuts like almonds help people achieve weight loss goals. Why? They have fiber and protein, a combo that keeps you full for the longest period of time and on the fewest calories. Try snacking on 15 almonds. They contain less than 10 calories, 2g of fiber and 4g of protein. Add an apple and you have 180 calories, 6g of fiber and 4g of protein.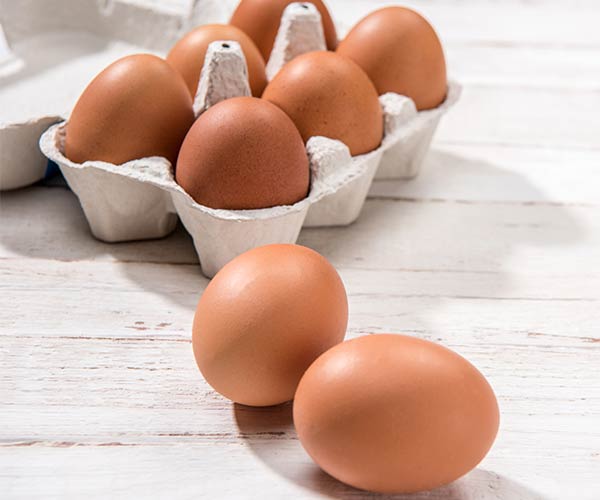 Eggs
Crack two eggs, scramble them with kale or spinach and dig in. Goldberg suggests omega-3 enriched, cage-free eggs cooked in 1 or 2 teaspoons of olive oil (it's anti-inflammatory). "And yes, you should eat the yolk!" she says. Stop with all the egg whites. The yolk helps you to feel full and satisfied and it contains the important vitamins D and biotin. There are tons of ways to make eggs – each more yum than the next. Right now we're crazy over poached eggs served on high-fiber wheat toast and topped with the next anti-inflammatory showstopper.
Avocado
The benefits of avocado are boundless: it's delicious, versatile, satisfying and anti-inflammatory. We know it's high in calories, but those calories help keep you feeling full for longer. They contain monounsaturated fats, which have been shown to reduce fat distribution around the belly. You can serve an egg in half an avocado, add it to smoothies, mix it with hummus or eat it straight with a touch of lemon and sea salt.
[Photos: Shutterstock]