Most of us crave a sweet treat every now and then, and ice cream is high up on the list when it comes to dessert favorites that cool us down on hot summer days. But depending on your health concerns — you may be lactose intolerant, following a low glucose diet and not on board with ice cream's high-sugar content, or trying to lose weight — ice cream may not be the best choice.
These healthy ice cream brands make it possible to have your peanut butter or strawberry ice cream and eat it, too. They're lower in calories and sugar than traditional ice creams and contain some pretty sweet health benefits. Go on and add a handful of rainbow sprinkles for good measure.
Arctic Zero ($4.37)
One of the biggest complaints about enjoying a pint of ice cream is that it's too easy to go overboard and finish the entire pint. But Arctic Zero puts an end to that worry. Each serving has just 35 calories, and if you do manage to finish the pint in one sitting (because yum, who can blame you) you will be consuming somewhere between 150 to 280 calories, which is much, much less than most ice cream brands. Arctic Zero has small amounts of protein that it gets from whey protein, which is rare for an ice cream, and most of its sweetness comes courtesy of the monk fruit, which is an all-natural sweetener.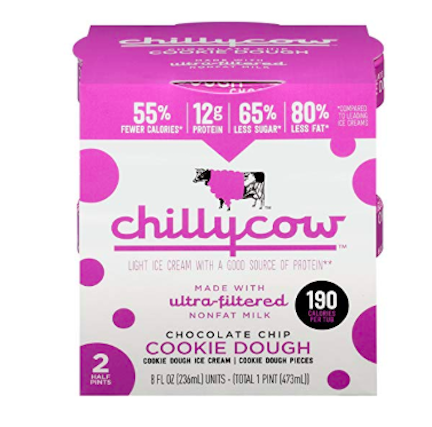 Chilly Cow Light Ice Cream ($6.15)
Made with ultra-filtered nonfat milk, this light ice cream has 55 percent fewer calories and 65 percent less sugar than most ice cream. The entire tub has 190 calories and 4.5 grams of fat. It comes in a variety of flavors like cookie dough, brownie batter, and peanut butter. But the one place this ice cream truly stands out is its protein content: it manages to pack in 12 grams of protein in a tub.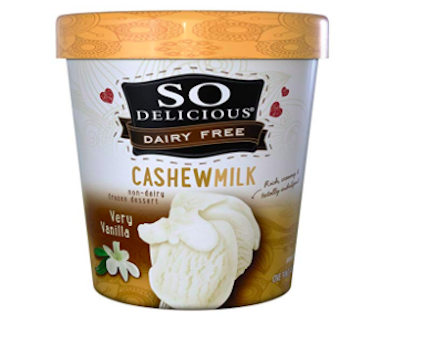 So Delicious Dairy Free Frozen Dessert ($5.49)
If you are lactose intolerant or just find your stomach feels unsettles after eating dairy, try this healthy frozen dessert alternative: it's made with cashew milk and is vegan and gluten free. This non-GMO treat has 150 calories and 7 grams of fat per serving. It's not exactly low in sugar though, so be careful not to overindulge if you are following a low-glucose diet plan.
Halo Top ($58.05 for an 8 Pack)
Similar to Arctic Zero, Halo Top frozen desserts boast their low calorie content right on the packaging, which is a promise that finishing the entire container won't blow your daily calorie goals by much (most range from 150 to 300 calories). The brand is creative with its flavor options, which include red velvet, oatmeal cookie, chocolate almond, and lemon cake, and each serving contains small amounts of protein, iron, calcium, and vitamin A.
For more dessert tips, check out 5 Desserts That Will Never Cause Weight Gain and 5 Low-Cal Dessert Recipes You Should Try If You're Sick Of Dieting on SHEFinds.com.
SheFinds receives commissions for purchases made through the links in this post.