Experts say that you shouldn't wait until you're selling or giving away a laptop to swipe it clean of personal data.
"Most people know to wipe their hard drive when they give away or sell an old computer. However, there are some pieces of data on your laptop that put your personal and financial life at risk right now," cybersecurity expert Ian McClarty of PhoenixNAP Global IT Services tells us.
Here are four things that you should delete from your laptop now to save yourself potential headaches later, he says:
READ MORE: This Is The Worst Mistake You Can Make When Downloading An App On Your iPhone
Credit Card Numbers
"Credit card numbers that are located on your laptop give would-be thieves a welcome mat to cause you financial woes," Ian explains. "This problem hits nearly everyone. The forgetful middle-aged businessman who saves his credit card information to a file and the tech-savvy, 20-something that enters her card information on a Google Chrome web form are both at risk of having this critical data stolen. While the businessman can delete the offending file, the young person must delete the auto-filled, credit card data that Chrome saves by going into the browser's advanced settings."
So, how can you protect yourself? "To prevent future data breaches, turn off the platform's auto-fill feature," he explains.
Electronic Bank Statements
"Many banks give patrons the option to receive monthly statements by mail or electronically. If you chose the digital option, download a copy of your bank statement to your laptop to review your transactions when disputing charges. It's likely that the file stays in your download folder long after you resolve the bank issue. Delete these files from your computer immediately," he advises. "No one needs to know that you ate at Ruth's Chris Steak House several times in the month but went overdrawn when you tried to pay for your gym membership."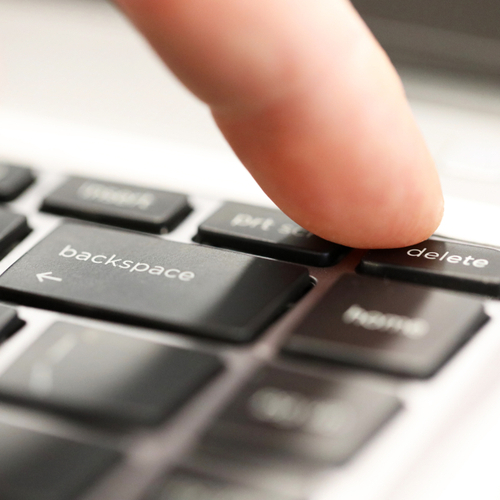 Contact Information
"Critical pieces of personal information such as your date of birth, full name, address, and telephone number are things that you give away to businesses without a second thought," Ian advises. "However, these pieces of data give cyber-thieves what they need to create fake personas for anyone who will pay. They can even use the information to change your account information and lock you out of digital services in some cases. Delete all contact information from auto-fill forms, and dump files that contain these data points."
READ MORE: Netflix Just Made The Most Heartbreaking Announcement Ever & We're Devastated!
Pictures
"A picture is worth a thousand words and potentially thousands of dollars in the hands of the right cybercriminal," Ian warns. "Instead of having a notary public verify your identity in person, a few companies use digital photos from smartphones for this evidence. When used with supporting information, a picture of you or your child could lead to identity theft."