"Carb" sound like a curse word to people who want to lose weight, but not all carbohydrates are sitting around plotting the expansion of your behind. We don't believe in extremes, which means we'd never go on a no-carb diet. Everyone needs carbohydrates! In fact, the right ones can actually help you slim down. "Good carbs are rich in fiber so they release energy into the blood stream slowly and help you avoid spikes in insulin and blood sugar," says Abbey Sharp, RD, of Abbey's Kitchen. "The fiber keeps you feeling fuller longer, so it may assist in reducing fat by helping you avoid hungry snack attacks." Here are some carbs you can safely eat in moderation.
Shutterstock
Quinoa
"Quinoa is one of the healthiest carbs," says Jessica Rosen, a holistic health coach and founder of Raw Generation. Why? It's gluten-free, high in fiber, packed with antioxidants, and is full of nutrients like iron, zinc and magnesium, and is a low-calorie protein. "Unlike most high-carbohydrate grains, quinoa sustains the appetite without skyrocketing blood glucose levels," says Rosen. "It actually lowers blood glucose levels which is significant for healthy weight loss because excess glucose gets stored as fat in the body." We love that quinoa takes on multitude of flavors so it's incredibly versatile for breakfast, lunch and dinner.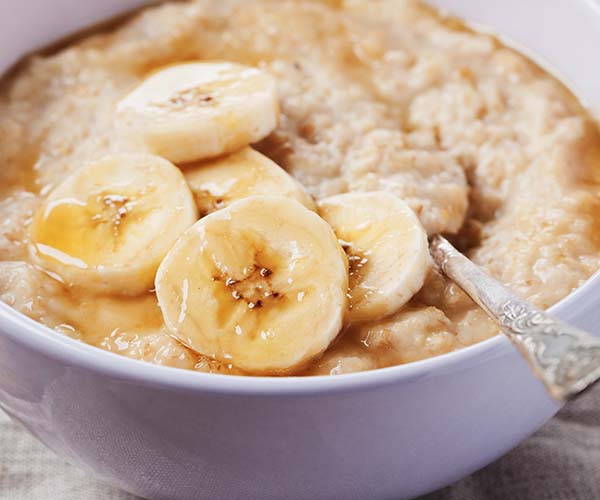 Shutterstock
Oatmeal
Steel-cut oats are amazing. For one, they're not pre-cooked. They're also processed in a manner that helps them maintain more fiber and protein than other versions. Plus the hearty, chewy feel of steel-cut oats helps you to slow down breakfast and feel full. Only have rolled or instant oats on hand? That's still better than a bagel. In ¼-cup of oats there's 5 g. of fiber and 7 g. of protein. The fiber is part soluble – it slows digestions and makes you feel satiated. "Adding some fat or protein to oatmeal will further slow down absorption and stave off snacking," says Sharp. Try toppings such nuts, seeds, flax, grated apples or mashed banana. We also love her trick for balancing out the carbs in oatmeal with protein: making proats, as in protein oats! Whip frothy egg whites into oats for a creamy, fluffy breakfast. Yum!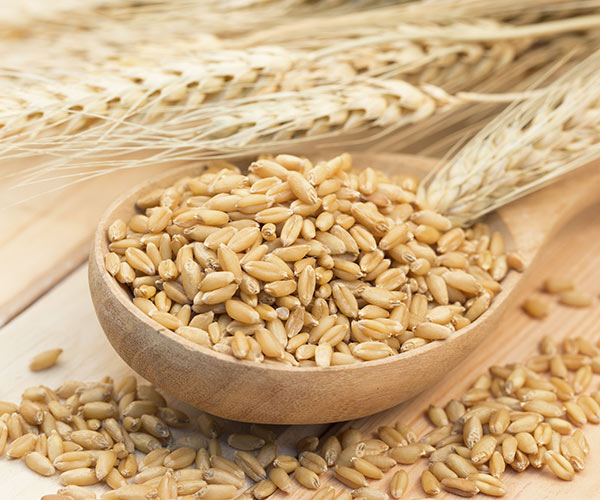 Shutterstock
Barley
Leftover chicken is boring and we'd rather eat cereal for dinner. But last night's bird mixed in a colorful grain bowl is appealing and healthy. "Whole grains like barley reduce fat and takes inches off your waist because they're absorbed into the blood stream at a slow pace," says weight loss expert Dr. Rachita Reddy, MD. Barley and other whole grains like brown rice and bulgur are loaded with fiber that prevents inflammation and a sugar spike. "Without that sugar spike the sugar in your body isn't convert to and stored as fat," she says.
Shutterstock
Sweet Potatoes
Here's a peek at our Sunday night routine: We slice a half dozen sweet potatoes into thick wedges, lightly dress them with EVOO, salt and pepper, and then bake them on high followed by a quick stint under the broiler. Now you have an already cooked, healthy carb to weave into meals all week. "These slow carbs are versatile, naturally sweet and our bodies digest them slowly," Andrea Wise, a Chicago-based trainer and nutrition coach. Add a dash of oregano and use the slices for salads, protein bowls or a simple side dish. Sprinkle on a dash of cinnamon and you have a great add-in for smoothies, oatmeal and eggs.
Shutterstock
Lentils & Beans
Lentils are tiny legumes that are great sources of plant-based protein and fiber. "They won't elevate your blood sugar so you'll have sustained energy without the spike and crash," says Wise. Don't just think of them as a side dish. We like to serve salmon on a bed of lentils and add them to burgers and meatballs. The same goes for black beans. There's a lot of fat-fighting power in the humble black bean. They have protein and fiber plus B vitamins that could accelerate weight loss and prevent fat from settling in your middle. We love black beans in burritos and enchiladas but they have a happy place outside of Mexican foods. Sprinkle them over roasted veggies, put them on top of pizza and mix them into salads.