If you're someone who finds nail polish color changes therapeutic or can't commit to the same shade for more than a few days, you're probably also all too familiar with how many nail polish removers seem to strip your nails and cuticles of all moisture, leaving them feeling brittle and weak. That's because most traditional nail polish removers use water and acetone. The good news about this chemical? As long as you're using it as directed, there isn't enough of it in nail polish remover to cause health concerns. That being said, this powerful solvent doesn't just effectively remove nail polish--it can also dry out your cuticles, hands, and nails to the point that you start to see white spots on them.
Luckily, modern nail brands have become hip to the fact that women are demanding safer nail care products--and they're responding with polish removers that will blow your mind (and save your hands). Non-acetone nail polish removers have always been considered a kinder, gentler, but less effective polish remover. While you may need to rub your fingernails a few seconds longer, patience pays off: these nail polish removers won't simply take away your old red polish and leave room for a brand-new navy, they'll moisturize your hands and nails with soothing ingredients that will make removing your polish feel like a spa treatment.
If you're ready to make the switch to a nail polish remover that doesn't completely strip your hands fingers and nails, here are 5 to try.
Treat Collection Gentle Nail Polish Remover
Every product in the Treat Collection is "5 free," meaning free of formaldehyde, formaldehyde resin, tolouene, DBP, and camphor. Treat's Gentle Nail Polish Remover is an incredible soy-based formula made with pure argan oil and infused with vitamins A, C & E. It feels like a dream on nails and skin and actually nourishes them as you remove your polish--and, I have to say, it did a pretty nifty job at removing two coats of Treat Collection Smokey Nail Polish in seconds.

Treat Collection Gentle Nail Polish Remover ($24)
Cutex Non-Acetone Nail Polish Remover Pads
This non-acetone formula from Cutex uses Ethyl Acetate instead of Acetone and is ideal for both artificial nails, like Acrylics, and natural nails.

Cutex Non-Acetone Nail Polish Remover Pads ($3.99)
Julep Acetone-Free Nail Polish Remover
Julep's acetone-free nail polish remover takes away your darkest polish and gives back--in the form of a sweet lavender scent. A moment of silence should be taken at this time to give thanks to the company for its wonderful packaging, which consists of a pump-action dispenser, meaning fewer spills and ruined countertops.

Julep Acetone-Free Nail Polish Remover ($14)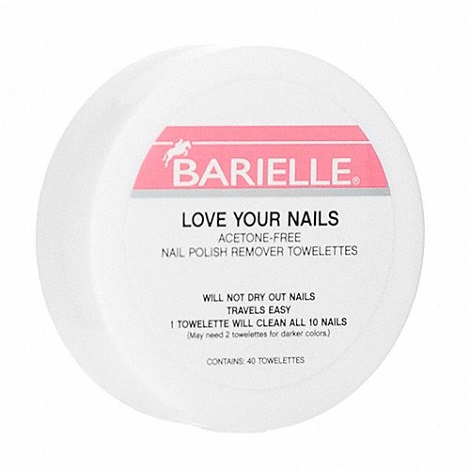 Barielle Non-Acetone Nail Polish Remover
Barielle's pretty pink non-acetone polish remover conditions cuticles while removing polish and even comes in cute little towelettes, which are perfect for travel.

Barielle Non-Acetone Nail Polish Remover ($5.25, down from $10)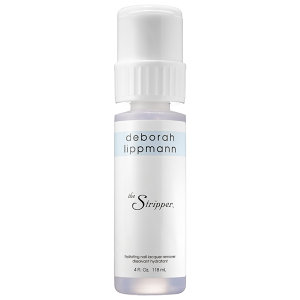 Deborah Lippman The Stripper Polish Remover
While this award-winning polish remover does contain acetone, anyone who prefers a stronger product (or wears stubborn gel polish that refuses to come off easily) can rest knowing Deborah Lippman The Stripper Polish Remover also contains lavender and aloe, which treat and condition your nails and cuticles as it removes your darkest, and even more glittery, polishes.

Deborah Lippman The Stripper Polish Remover ($19)