Carbohydrates are not the enemy — and as long as you are choosing complex carbs (a.k.a. the opposite of refined carbs) they can even help you lose weight.
Good carbs contain a number of vitamins and minerals that are essential for your body, including B vitamins, as well as fiber, which is crucial for a healthy digestive system and any weight loss goals you have in mind. And they don't deserve the bad rap they share with refined carbs like French fries, cake, doughnuts, white bread, and white pasta.
"Complex carbohydrates are larger molecules than simple carbohydrates," Molly Cleary, M.S., R.D., a registered dietitian in New York City, told Eating Well. "This means it takes our body longer to digest and absorb them."
Here are six anti-inflammatory carbs you can eat non-stop and actually still lose weight.
Shutterstock
1. Potatoes

Somewhere along the way, potatoes got a reputation as a not-so-healthy food. But this couldn't be further from the truth.

According to Eating Well: "One medium potato has fewer calories than a cup of pasta and boasts a whopping 4 grams fiber, 4 grams protein and 25 percent of your daily value of potassium. If you are having potatoes at dinner, fill the rest of your plate with nonstarchy vegetables, like broccoli or Brussels sprouts, and protein."
Shutterstock
2. Beans

They're high in protein, low in calories, and so rich in fiber that a small portion will fill you up fast. Beans are one of the healthiest complex carbs you can eat — and are especially important if you are a vegetarian or vegan and looking for ways to increase your protein intake.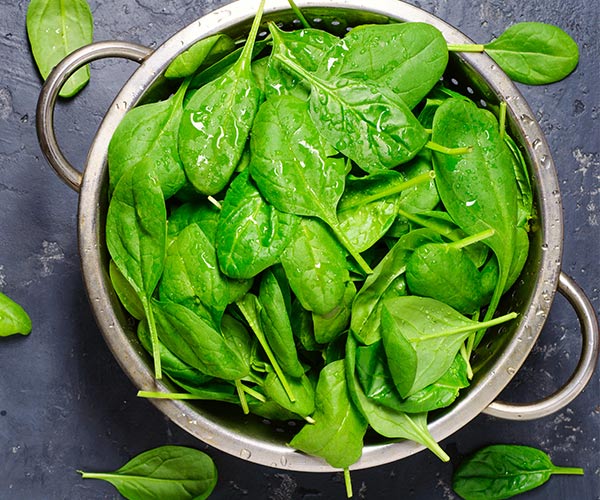 Shutterstock
3. Spinach and Other Leafy Greens

We don't always think of leafy greens when we hear the word "carbohydrates," but foods like spinach are among the best complex carbs that provide a number of vitamins, minerals, and amino acids.

"You can't underestimate the importance of eating more plants, and if you're looking for complex carbs then vegetables and beans/legumes are an obvious choice," Allison Knott, M.S., R.D.N., a registered dietitian based in Brooklyn, New York, told Eating Well. "Consider adding spiralized root vegetables like sweet potatoes or parsnips to pasta dishes, swap meat for beans in chili and burgers (or go half-and-half), or add cooked leafy greens to soups, egg scrambles, pastas and sandwiches."
Shutterstock
4. Quinoa

Brown rice is great — but if you're looking for an alternative carb, quinoa deserves a place in your pantry. This ancient seed is a complete protein that contains all of the essential amino acids. It's also a rich source of protein and fiber that will fill you up fast.
Shutterstock
5. Ezekiel Bread

Searching for a substitute for white bread that you can use to make sandwiches and add as toast with your eggs? Look no further than Ezekiel bread, a sprouted bread made from whole grains that contains absolutely no added sugar.
Shutterstock
6. Oatmeal

With 5 grams of protein and 4 grams of fiber per each half-cup serving, oatmeal is one of the most nutritious complex carbs that provides you with an abundance of energy to start your day. Even better: oatmeal contains a soluble fiber called beta-glucans that work to suppress your appetite — so you'll eat less, but feel satisfied.