New year, new fabulous fashion and beauty collaborations! This January marks the release of perfect pairings from brands like
Kate Spade
,
Marchesa
,
MAC
, and
Diptyque
. Amazing! Check out these new collections — we can't wait for them to hit stores (some already have!).
TURA INC. x Gwen Stefani
Gwen Stefani's latest L.A.M.B. and gx eyewear collection describes itself as "a playful mixture of pop, punk and chic" — which is pretty much the essence of Gwen's cool girl style. The contemporary frames are both fabulous AND affordable with prices starting at $149!
[Photo: Splash News][Photo: TURA]
Malala Fund x TOMS TOMS paired up with Nobel Peace Prize Laureate Malala Yousafzai to create this signature scarf bearing a quote from Malala herself. TOMS promises that 100% of the profits from the patterned scarf will go toward the Malala fund, which supports girls' empowerment through education. [Photo: TOMS]
Courtney Love x Nasty Gal Hooray, Courtney Love's '90s look is back in vogue! Nasty Gal teamed up with the rocker to re-adapt her signature style for a modern audience. Love describes her initial vision for the collaboration as "lingerie meets real world." Well, you've done it again, Courtney, we're newly obsessed with your style! [Photo: Nasty Gal]
Charlotte Olympia x Agent Provocateur
We didn't see this collaboration coming, but we're so glad it is! Handbag and shoe label Charlotte Olympia has teamed with lingerie line Agent Provocateur for a sexy and unique collection of delicates. The designer behind Charlotte Olympia, Charlotte Dellal, told Vogue, "I've have been collecting Agent Provocateur's beautiful lingerie for years. I almost have more lingerie than shoes! Both brands share similar sensibilities - we're feminine, playful and love glamour." The collection will be available in stores and online come January 18!
Beyond Yoga x Kate Spade
Kate Spade's colorful prints have paired with Beyond Yoga's athletic wear for a collection that exudes personality. Expect bows and stripes galore in this fashion-forward collaboration available today.
Diptyque x Olympia Le-Tan
This collaboration arrives just in time for Valentine's Day! Fashion designer Olympia Le-Tan and Diptyque (the scented candle Gods) have joined forces to create this sleek — and very pink! —line of luxury goods inspired by the "mystery and allure of the lady's bag."
Ariana Grande x MAC
Ariana's kicking 2016 off right with this cool partnership with MAC Viva Glam. Grande will be debuting two new products with the brand: a dark purple-hued lipstick to "represent the bad girl in you," and a soft pink gloss meant to "represent the good girl in you," Ariana thinks "you should play up both sides." As with the previous Viva Glam collaborations (Miley Cyrus, Rihanna, Rupaul) all lip product proceeds will go toward the MAC AIDS fund, which aims to prevent the spread of HIV/AIDS through educational programs. Awesome products, awesome cause! Ariana Grande gets our vote for ultimate 2016 cool girl. Expect to see these products in stores January 19. We can't wait.
[Photo: Instagram]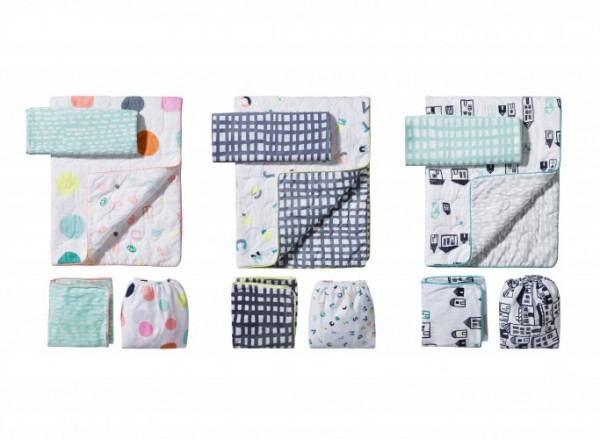 Oh Joy! x Target
Famed blogger Joy Cho has teamed up with Target for two exclusive lines. Online and in stores now is Cho's nursery collection, which features adorable prints and decor for the ultimate infant-friendly space. These 26 baby-inspired items are too adorable. Stock up for the next year (or five) of baby shower gifts! Cho's second collection, a home decor set, will debut in early February.
BHLDN x Marchesa
Calling all brides-to-be! Thanks to this budget-friendly collaboration, you can rock a fabulous, hand-stitched Marchesa wedding gown for under $2200! If you have that golden ticket/engagement ring, keep your eyes peeled for this collection.
[Photo: BHLDN]
Disney x Nation Ltd.
L.A. T-shirt company Nation Ltd. is set to collaborate with Disney on a Tinker Bell-inspired clothing line that will range from $78 to $136.
Kate Torpey, Director of licensing for Disney consumer products, explained why the Peter Pan character has become a notable fashion icon in the more than 60 years since her Disney debut, stating, "[Tinkerbell] was ahead of her time sporting an effortless top knot, strapless minidress and signature flats. On top of that, her confidence, attitude and personality make her relevant and relatable to the modern woman." Agreed! We've been emulating Tink since age 5 and we are so ready to get our hands on this collection.