Cooking dinner for yourself is the absolute last thing you want to do after a long day. Finding the motivation to whip up a healthy, well-balanced dinner can be hard, but that's when meal-prepping comes in handy.
"Regardless of how busy you are, I always tell my patients that the best way to make sure you're eating nutritious meals every day is by meal-prepping," Regina Fazzini, a New York-based nutritionist, tells SheFinds. "Whether it's chopping up your veggies and storing them or grilling chicken in bulk, meal-prepping is a great tool that's super easy to utilize."
If you're feeling uninspired in the kitchen and don't have the energy to cook dinner, here are some super easy and healthy recipes that will help you power through:
Salmon & Asparagus with Crème Fraîche
Salmon is loaded with omega-3 fatty acids and is extremely to prepare. This broiled salmon recipe calls for healthy asparagus and a flavorful, rich sauce. It sounds hard to make, but it only requires 7 ingredients!
Ingredients:
2 bunches asparagus (about 2 lbs. total)
3 tablespoons extra-virgin olive oil
About 3/4 tsp. kosher salt, divided
About 1/2 tsp. pepper, divided
4 skinned salmon fillets (5 to 6 oz. each)
1/2 cup crème fraîche
1 tablespoon each whole-grain mustard and chopped fresh chives
This shrimp recipe is perfect for those who don't have a lot of time on their hands to cook. Everything gets combined in the same pan and requires minimal effort. All you have to do is add the ingredients in when it's time!
Ingredients:
1 tablespoon olive oil
2 tablespoons shallot, chopped finely
3/4 pounds medium shrimp, peeled & deveined
3 cloves garlic, minced
1 tsp grated ginger
1/4 cup vegetable broth or water
Juice & zest of 1 lime
1 (13.5 ounces) can full-fat coconut milk
1 teaspoon brown sugar
1/2 cup fresh cilantro, chopped
6 large leaves fresh basil, torn
Salt & pepper, to taste
Cooked rice (optional)
Grilled Chicken With Tomato-Avocado Salad
This summer-favorite recipe is foolproof regardless of your kitchen skills. Trust us, the homemade buttermilk dressing that goes on top is one of the best we've ever had.
Ingredients:
1/4 cup nonfat buttermilk
3 tablespoons canola mayonnaise
2 tablespoons minced fresh flat-leaf parsley
1 tablespoon minced shallots
1 teaspoon minced fresh thyme
1 teaspoon cider vinegar
1/4 teaspoon freshly ground black pepper
1/8 teaspoon kosher salt
1 garlic clove, minced
4 (6-ounce) skinless, boneless chicken breast halves
Cooking spray
1 1/2 tablespoons olive oil
1 teaspoon onion powder
3/4 teaspoon ground cumin
3/4 teaspoon kosher salt, divided
1/4 teaspoon chipotle chile powder
2 ears yellow corn, shucked
1 small red onion, cut into 1/2-inch slices
2 yellow tomatoes, each cut into 4 slices
2 red tomatoes, each cut into 4 slices
1 cup cherry tomatoes, halved
1 sliced peeled ripe avocado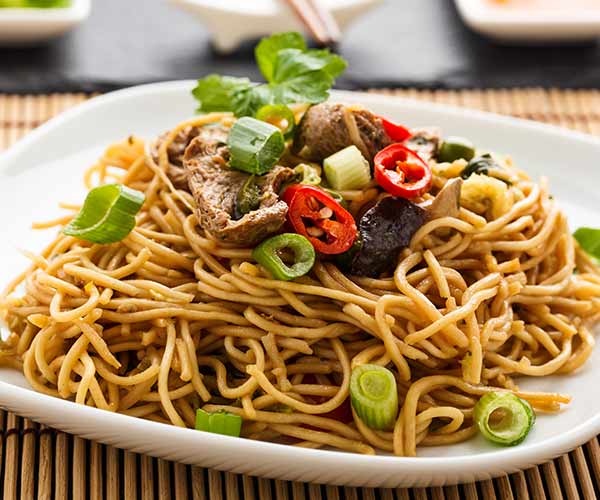 This one of our favorite recipes to make because it satisfies our takeout cravings without any guilt or unwanted calories. You can use any vegetables you like, but it's best to use red bell peppers for their crisp, sweet flavor. Regardless of the veggies you choose, you definitely have to add serrano chile to get that kick.
Ingredients:
2 tablespoons hoisin sauce
1 tablespoon sugar
1 tablespoon water
1 tablespoon fish sauce
1 tablespoon peanut oil
3 garlic cloves, minced
1 serrano chile, thinly sliced
3 (6-ounce) skinless, boneless chicken breast halves, cut into 1/4-inch-thick strips
1 1/2 cups sliced red bell pepper
1 cup thinly vertically sliced onion
1/2 cup fresh basil leaves, roughly chopped
1 tablespoon fresh lime juice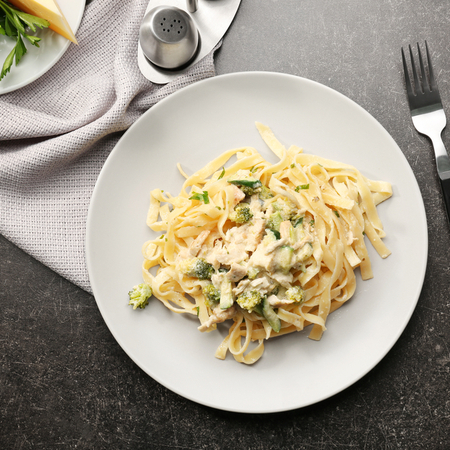 Instant Pot Spaghetti Squash Chicken Alfredo
Spaghetti Squash is a healthy pasta alternative and makes for a great option when those carb cravings kick in. Plug in your Instant Pot, add in the ingredients and enjoy this quick and easy low-carb meal.
Ingredients:
1 whole spaghetti squash
16 oz skinless chicken breasts cut into 1-inch cubes
4 oz reduced-fat cream cheese, softened
1/2 cup low-sodium chicken broth
2 cups broccoli chopped
1 cup parmesan cheese shredded
1/4 cup heavy whipping cream
3/4 tbsp butter softened
1 tbsp flour
1 tbsp minced garlic
2 cups almond milk
1 cup water
1 tsp olive oil