The secret to healthy, younger-looking skin lies in your skincare regimen. It needs to include a variety of products that clean, moisturize, repair, and protect the skin in order to help it maintain a youthful glow. These products also promote collagen production, which naturally slows down when you reach 30, and help replenish and strengthen the skin's natural moisture barrier, improving plumpness, firmness and elasticity, and reducing the appearance of wrinkles.
Skincare Products For 30s
But, if you're new to the anti-aging skincare game, it can be overwhelming to find the products you need to get the results you want. To help eliminate some of that confusion, we found out what the pros use to keep their skin looking amazing. Here are the skincare products dermatologists say every woman over 30 should be using: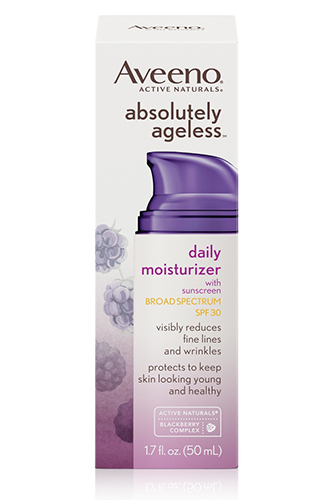 Aveeno Absolutely Ageless Daily Moisturizer ($18.79)
"I was introduced to this product when I was a resident. I love that it not only protects from UV exposure, but it's the one product that really brightens up the skin, thanks to its soy complex and light diffusers," says Dr. Joshua Zeichner, MD, director of cosmetic and clinical research, Department of Dermatology, The Mount Sinai Hospital. "While there are many expensive skincare treatments on the market, nothing is better at preventing both skin cancer and premature skin aging than sunscreen."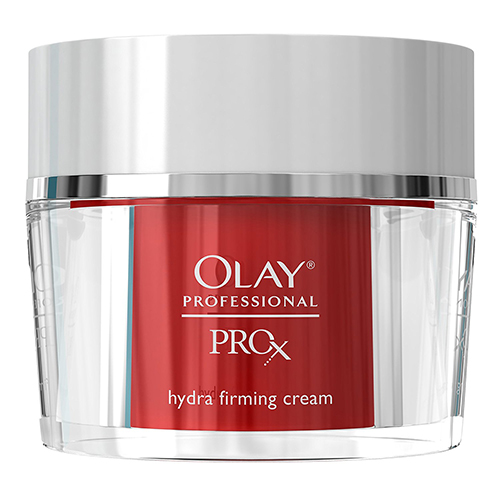 Olay Professional ProX Hydra Firming Cream Anti Aging ($28.49)
"This is the best anti-aging product in the drugstore! It addresses most concerns associated with premature aging of the skin including tone, texture, wrinkles, and discoloration by containing the right combination of ingredients. This product has been evaluated in clinical trials — in fact, one study published in the British Journal of Dermatology showed that it was as effective as Renova, an FDA-approved prescription product for the treatment of wrinkles. Applied at night, it's the perfect solution for those who want an effective anti-aging product in one jar," says Dr. Diane S. Berson, MD, associate clinical professor of dermatology, Weill Medical College of Cornell University New York-Presbyterian Hospital.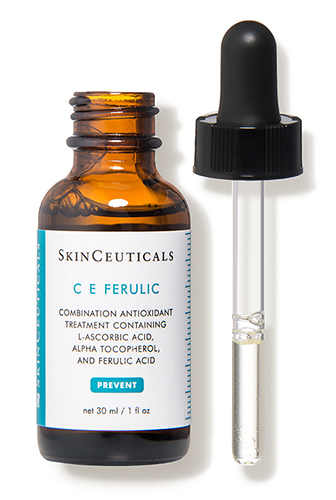 SkinCeuticals C E Ferulic ($166.00)
This antioxidant serum is a favorite among skincare professionals because of its combination of ferulic acid and pure vitamins C and E, which work together to enhance your skin's protection against environmental damage caused by free radicals. In addition to its antioxidant protective benefits, this serum also improves signs of aging and photodamage by reducing the appearance of lines and wrinkles while firming and brightening your complexion.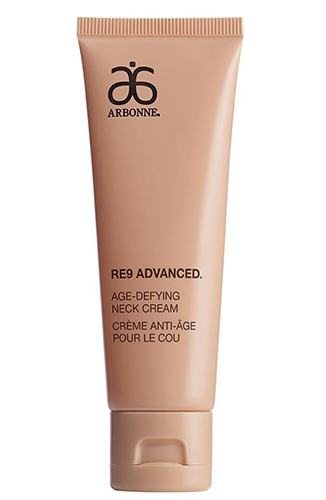 RE9 Advanced Age-Defying Neck Cream ($85.00)
A good neck cream is hard to come by. This formula uses peptides to help improve the appearance of firmness by adding moisture to your delicate neck and décolletage area. It also contains vitamin C, which works to promote collagen production.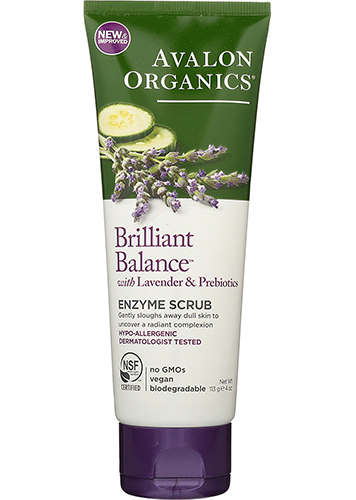 Avalon Organics Brilliant Balance Enzyme Scrub ($9.83)
"As the skin ages, its cellular turnover capabilities slow down. A gentle, weekly scrub promotes cell turnover and can help keep skin glowing and healthy-looking. Used once a week, this scrub gently exfoliates my skin without irritation and contains ingredients like lavender and probiotics to help calm things down. I have rosacea and I'm able to use this product without any issues. I consider it a nice wake up for my skin," says Dr. Elizabeth Tanzi, MD, assistant clinical professor, Department of Dermatology at the George Washington University Medical Center.
Caudalíe Resveratrol Lift Eye Lifting Balm ($62.00)
"This natural eye balm is powered by a patent combining vine resveratrol with hyaluronic acid for an age-reversing effect," explains dermatologist Karen Hammerman, MD, of Schweiger Dermatology Group. "Formulated with advanced peptides and an anti-puffiness plant complex, this eye balm helps lift the skin of the eyelids, reduce puffiness and dark circles, and smooth the appearance of wrinkles. The texture is silky and melts into skin without the use of synthetic emulsifiers, and it works especially well under makeup."
Which skincare products do you swear by for younger-looking skin? Let us know in the comments below!
SheFinds receives commissions for purchases made through the links in this post.