There are so many weight loss plans but few with the long-term effects we want. Is there a diet that's more than just a great sounding concept? "Weight maintenance requires sustained dietary change," says Rachel Swanson, a RDN at Lifespan Medicine. "Making it a habit to add anti-inflammatory foods to your plate each day means controlling hunger over time and preventing weight re-gain," We're making a promise to eat these anti-inflammatory foods in 2018!
[Photos: Shutterstock]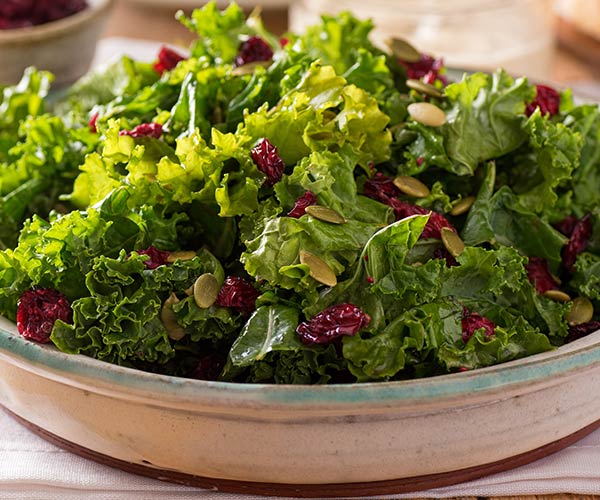 Kale
You've heard a lot about green, leafy veggies. And now you're going to hear some more. "Emerging evidence suggests the phytochemical composition of foods may also have a role in weight loss," says Swanson. Take kale for example. It contains polyphenols that have potential potent effects against fat cells.
Flavonoid-Filled Fruits
"If this F word sounds foreign, don't fret - it simply refers to the bioactive component of fruits and vegetables which have the potential to influence weight," says Swanson. Upping your intake of flavonoid-filled foods like blueberries, strawberries, apples, pears and oranges is associated with preventing weight gain. Whole fruits are best: they have fiber and are low calorie.
Green Tea
Do you drink a lot of alcohol, high calorie sodas, sugar-laden sports drinks and fruit juices? Simply replacing these high-calorie quenchers with green tea will have a positive effect on your scale, says Swanson. On the science side, green tea contains the compound EGCG, a catechin "which shines as an anti-inflammatory superstar thanks to its proven effects on a wide ranging spectrum of conditions and diseases," she says. "Sipping on a beverage like green tea has the ability to raise your metabolic rate, too, allowing you to burn more calories – and who wouldn't want that?"
Salmon
"Eating wild Alaskan salmon decreases inflammation in the body," says Stacy Goldberg, a nutritionist at savorfull. A big reason is the omega-3 fatty acid that helps your body burn off fat rather than store it. The omega-3 fatty acids in salmon are healthy fats that directly inhibit inflammation. Reducing inflammation could raise your levels of serotonin - the hormone that helps you achieve restful sleep. Research shows that people who don't sleep soundly are more likely to gain weight and also have a difficulty shedding extra pounds. Choose wild versus farmed salmon because it has more omega-3s.
Avocado
The benefits of avocado are boundless: it's delicious, versatile, satisfying and anti-inflammatory. "The healthy fats in avocado decrease your appetite and supply your body with a healthy balance of minerals," says Dr. Marizelle Arce, a naturopathic physician. Use it to make a creamy salad dressing or guacamole, mix it with hummus, or spread it on whole grain toast.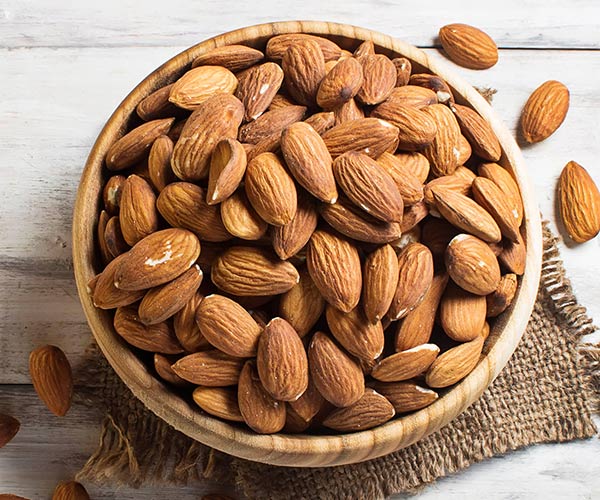 Almonds
Eating low-calorie, anti-inflammatory snacks like almonds help people achieve weight loss goals. Why? They have fiber and protein, a combo that keeps you full for the longest period of time and on the fewest calories. Try snacking on 15 almonds. They contain less than 10 calories, 2g of fiber and 4g of protein. Add an apple and you have 180 calories, 6g of fiber and 4g of protein.
Ginger
There's more to ginger than decorating a plate of sushi. This sweet and spicy, anti-inflammatory food aids digestion and helps metabolize excess adipose tissue (that's a fancy word for fat). "Ginger also decreases hunger and bloating," says Dr. Arce. Use fresh ginger to make tea or to add a kick to chicken salad.
Coconut Oil
Dr. Arce suggests adding coconut oil to your cooking routine. Coconut oil helps decrease appetite and helps convert sugar stored by your body into energy rather than fat. It also maintains the condition of your gut by feeding healthy flora. Try this snack switcheroo: make popcorn using coconut oil!