Not all carbs are bad for you. The best ones are converted to energy your body can use to exercise and burn fat. The worst ones just become fat. "These empty calorie carbs will cause the next meal you have to be stored and turn into fat," says Dr. Marizelle Arce, a naturopathic doctor. Then comes the sugar imbalance that leads to cravings (mostly of more sugar!). Make a new start in 2018 and cut these carbs.
[Photos: Shutterstock]
Wheat Bread
"Refined wheat, aka white flour, contains no nutrients and leaves your body hungrier than when you sat down to eat," says Dr. Arce. You probably think that you're avoiding white flour and only eating the healthy stuff. Really pay attention to food labels. Just because a food is described as "whole wheat" or "seven-grain" doesn't mean it's good for you. Any food that lists "wheat flour" or "unbleached enriched flour" and has less than 4 grams of fiber is pure weight gain promoting junk.
Dried Fruit
"These are a huge calorie pit," says Andrea Wise, a Chicago-based trainer and nutrition coach. You probably add dried fruits to salad, oatmeal and yogurt, or snack on a handful. But they contain so much natural sugar that your calorie and carb intake can skyrocket. Instead opt for berries. They're packed with fiber and are low in carbs.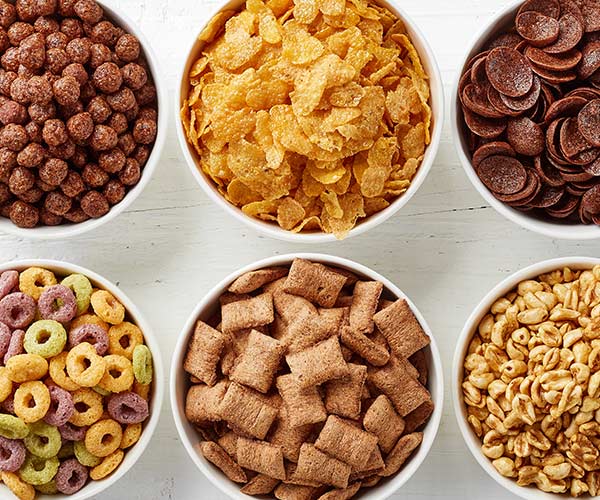 Cereal
"Sugary cereal is a terrible food," says David Baillie, a Connecticut-based personal trainer and owner of Front-Line Fitness. That means basically any box with a cartoon character on it. He says many cereals are highly processed, and full of sugar and refined carbohydrates. All of that added sugar is a big reason why cereal-eaters put on pounds.
Bagels
Sorry, bagels. We have to part ways. "Eating a bagel actually makes you hungrier because there is nothing in it to fill you up," says Stacy Goldberg, a nutritionist at savorfull. "The calorie count in a bagel is astronomical!"
Instant Oatmeal
"People who eat good carbs like oatmeal have more energy, reduced sugar cravings, lose more weight and even have more regular bowel movements", says Dr. Jennifer Stagg, a naturopathic physician. But instant doesn't qualify because it's been refined and lost most of its health benefits. Steel-cut oats retain the entire grain and that provides ample fiber to get your body moving. Yes. We mean moving waste out and using energy to get it done.
Sugar-Free Foods
Real sugar isn't great but there's actually something worse – sugar imposters! Dafna Chazin, a New Jersey-based dietitian, warns that sugar-free items, especially ones labeled as "carb-friendly", usually contain sugar alcohols such as sorbitol, erythritol and xylitol. "Your body can't absorb these artificial sweeteners so instead they get fermented in your gut," she says. "The byproduct of this fermentation process is gas." And that's why your midsection is mountainous. Chazin says to skip sugar-free soda, mints, gum, ice cream and protein shakes and bars that contain sugar alcohols. If there's an ingredient on the box that end with "-ol", it's likely a sugar alcohol. 

Processed Foods
You know those packaged foods that have giant ingredient lists and a long list of things you can't pronounce? Yeah, like that energy bar you have stashed in your purse for the 3 p.m. slump. They are packed with calories, fats and carbs. Opt for a piece of fresh fruit and a tall glass of water instead.
Hidden Sugars
Avoid carbohydrates that convert into blood sugar. Get this: 1 cup of low-fat yogurt has the same effect on your body as consuming 3.3 teaspoons of sugar and an 8 oz. glass of orange juice is equivalent to consuming 4 teaspoons of sugar. "You don't see these hidden sugars but your body does," warns Colette Heimowitz, a nutritionist at Atkins Nutritionals. "No matter where the sugar comes from, any excess sugar in your blood stream that isn't used as energy is stored as fat." It's what she refers to the "Hidden Sugar Effect" and it has a huge impact on your waistline.