Even the most traditional bride can find ways to make classic wedding day stand out. Simply use some or all of these expert tips to personalize your classic vows and wow your guests.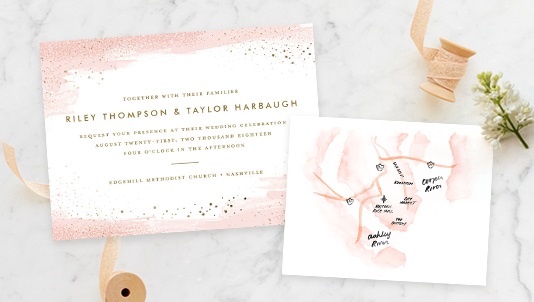 Inventive Invites
Everyone that is invited to the wedding will touch the save the date, wedding invitation, program or escort card, so be sure to infuse your personality into something custom with each, says Brie Owens, Chancey Charm Atlanta Wedding Planner. For example: hand drawn maps of where you met/got engaged for your save the dates; incorporate your favorite flower into the invitations; put your favorite quote, bible verse, or phrase at the bottom of your program; incorporate your fur babies by having a sketch of them on the escort cards! Have fun with it and think outside the box.

[Photo: Minted]
Dinner With A Twist
"Some of our clients have personalized classic weddings by choosing to have wedding dinners 'with a twist,'" says Gregory Golinski of Holiday Inn Resort Vanuatu. "For instance, a French bride and husband to be went for a Chinese menu for their wedding. This is quite original because usually, French families will choose foie gras, escargots, filet mignon and other French delicacies on such occasions. A few months later, an American couple decided to do dinner in reverse, first serving the desserts they had chosen, then the main entrees, then smaller appetizers, and finally a few 'amuse-bouche.'"
Serve A Signature Cocktail
Infuse your personality into your wedding elements with signature cocktails, says Skylar Caitlin, Chancey Charm Houston Wedding Planner. "For example, a couple I'm currently working with is going to have two cocktails each named after one of their dogs. The recipe for one is a family holiday tradition, which makes it extra special that they can enjoy it during the holidays as well!"
Offer Late-Night Snacks
Choose something that represents you or showcase the town you are getting married in, says Hilary Saurer of River Roast Private Events. A traditional Chicago-style hot dog station is perfect for a Chicago wedding and allows you to be creative as well.
Create A Hashtag
A unique way to personalize a classic wedding is through a social media wedding hashtag--even the most traditional wedding will have guests taking candids and sharing on Instagram and Facebook, says Anna Coats of Marry Me Tampa Bay. "Creating a hashtag that is reflective of the couple, versus just their names and wedding day, it a memorable touch that the guests will rave about."
Go With A Unique Guest Book
Be creative with your guest book and go off-theme for a bit, says Alana Futcher, Chancey Charm Richmond Wedding Planner. "I once had a couple have guests sign a surfboard for them to hang in their new home and all guests knew how much they loved to surf, so it was perfect!"
Celebrate Your Love Story
"I had guests name their tables at the wedding with a special city/location to them," says Jyl Deering, Chancey Charm Boston Wedding Planner. "With the table number, they framed a few short sentences on why that town had a connection to them, such as that is where they attended college together, their current city, where they went on their first vacation together, where the proposal happened, etc."
Set Up Signs
Wedding signs are the perfect way to make a bold statement, says Kim Burgess of Pretty Polite Print Boutique. "These versatile signs can share a personal message to guests (Thank you for being part of our day), steer guests in the right direction (Pick a seat, not a side 'cause we're all family once the knot gets tied!), or even display the night's drink selection (Get your cocktail on! Try our signature drink, the Clarkson Cocktail). The bride can coordinate these signs to the rest of her wedding day prints for a cohesive look that's personalized to her classic theme."
SheFinds receives commissions for purchases made through the links in this post.