It's one piece of jewelry you'll be wearing for life, so you want to make sure you choose wisely. Here are eight tips that will help you pick out the perfect wedding band.
[Photo:
Erich McVey
]
Consider your lifestyle.
If you are very active, diamonds are better than colored stones as they are harder and will chip less, says Brian Gavin of Brian Gavin Diamonds. And stay away from gold karatage over 14k. The metal is soft enough that significant trauma (think rock-climbing) could dent the metal or knock out any set stones.

[Photo: Etsy]
Don't get too trendy.
"Wedding bands are meant to be worn forever and they are meant to be worn on a daily basis," says Monil Kothari of Antandre Co.. "So while 'cool' and 'trendy' designs might catch your eyes now while shopping, ask yourself if you could see yourself wearing this 5, 10, and 50 years from now on."

[Photo: Etsy]
Look to the future.
While we might not want to admit it, a woman's weight fluctuates over her lifetime, which also means finger sizes change. Swelling while traveling, pregnancy, etc. can affect a woman's ring size, and choosing an eternity band with diamonds all around can make resizing difficult, says Tisha Vaidya, CEO at Pratiksha Jewelry. "Get a three-quarter style band so that it looks like an eternity band from everyone's point of view, with a small amount of metal at the bottom to allow you to change the size if and when you require it."

[Photo: Etsy]
Think beyond diamonds.
You'll wear this band every day, so it shouldn't be skimped on. But that doesn't mean you have to forego the photographer or caterer for your wedding. "A just as sparkling, just as durable option is moissanite," says jewelry designer Kristin Coffin. "A moissanite wedding band may come in a bit lower in price, so you can still have the style you love. The best part: A moissanite wedding band will match all your diamond jewelry--even a diamond engagement ring!"

[Photo: Moissanite.com]
Choose your karats wisely.
Be sure that the gold content of the wedding band matches the engagement ring, says Alexandra deAguiar of DeAguiar Designs. "If your engagement ring is 18K gold, you will want to make sure your band is the same--unless you are looking for a two-tone look. 18K yellow gold and 14K yellow gold have a different yellow hue. And 18K white gold and 14K white gold will look the same with the rhodium coating, but once that has worn off, they will have slightly different colors."

[Photo: Etsy]
Don't forget about the groom.
Another decision to make is whether you want your groom's wedding band to match your ring. "Often matching bands need to be a custom order and it's important to account for the extra time it may take to produce such a custom order," says Gavin. If you are creating your own custom ring, it's advisable to have the matching band made at the same time, so you can guarantee that they fit together."

[Photo: Etsy]
Mix and match.
Try on a variety of bands from different designers, in other metal colors, or with other textures or gemstones, says Coffin. "You may be surprised at how amazing your classic platinum solitaire looks beside a textured rose gold band. Or how a row of sparkling moissanites really showcases your blue sapphire engagement ring. Mixing and matching styles, stones, and colors will create a set that's uniquely yours."

[Photo: Etsy]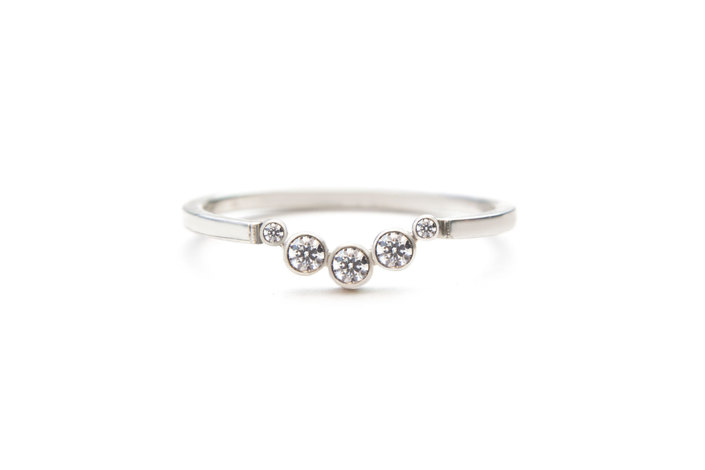 Consider stackables.
There are so many wedding band options out there, it's hard to choose just one. "Having a trio of rings to wear all together, or mix and match creates a really versatile look you can change up throughout the week," says Coffin. "An engagement ring looks killer with an eternity style wedding band, and another textured ring. Three is the new two."

[Photo: Etsy]