For many couples, their first "baby" is the dog, so it makes sense that you would want this special someone to be a part of such an important day. But having your dog come to your wedding has its share of issues (like your venue not being pet-friendly), so it takes a bit more planning on your part to make sure your pooch can play a part in the event. Here are 8 ideas to help you do just that--accompanied by some super cute photos!
Have him star on your save the dates
If you're doing photo save the dates, purchase one of these cute custom signs from Etsy so you can include your pooch on your wedding stationery.

[Photo: Etsy]
Let her watch you get ready
Some venues don't allow pets, so have your canine pal join you in the getting ready process.
Be a bridal party member
If your venue allows pets, consider utilizing your canine companion as your ring bearer or flower girl, says Stefany Allongo, founder of The Majestic Vision: Wedding and Event Planning Services. "It's always a crowd pleaser. However, make certain that you have a designated dog handler that isn't in your wedding party. You don't want Lassie getting loose in order to run free or join you at the altar."

[Photo: Krystal Zaskey Photography; Florals and Decor: Orange Blossoms Floral and Event Design]
Make him one of the guys
If your pooch really is your future husband's BFF, throw an adorable bowtie on him and have him sit at the altar with the groom and his groomsmen.

[Photo: Etsy]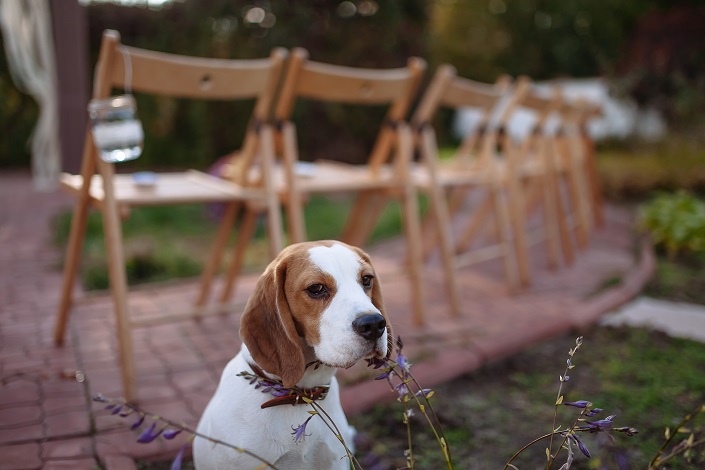 Designate him official greeter
When her boxer, George, wasn't allowed inside the chapel during her ceremony, Amy Taylor of Houston TX had him outside as the greeter and then took pictures with him after the ceremony. "It was fun to have him there, even though he was barking under the unusual circumstances."
Dress them up
Is there anything cuter than a dog walking down the aisle in formalwear? Martha Stewart just launched a line of wedding-themed apparel and accessories, available exclusively at PetSmart. Available through August, the line includes a wedding dress, tuxedo, bridesmaid dress, as well as bow tie and bow collars with matching leashes. All apparel is $19.99 and the collars and leashes range from $12.99 to $14.99.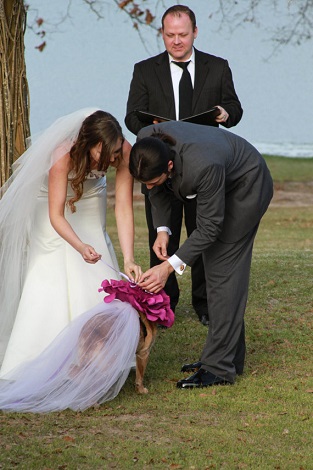 Make him the ring bearer
There are tons of gorgeous pillows you can tie around your pup's neck so he/she can walk your wedding rings down the aisle.

[Photo: Etsy]
Take lots of photos
The best way to have your pet be part of your special day is through lots of photos you'll treasure for years to come. So whether it's the engagement shots or official wedding photos, talk to your photographer about fun and interesting ways to make your dog a part of those pictures.