The holidays are fast approaching--along with the start of engagement season! And this year brings a slew of unique and stunning trends that will make every bride's ring stand out from the pack. Here are our nine favorites.
Rose Gold
James Allen.com, the world's largest privately held online retailer of diamonds, engagement rings and fine jewelry, has seen quadruple growth in sales of rose gold engagement rings in 2015.Celebrities like Allison Brie, Blake Lively, and Leighton Meester are even in on this trend--all sport Rose Gold rings. And there's no need to worry about rose gold rings going out-of-style because they're classic and timeless (icon Audrey Hepburn had one too!).

[Photo: Etsy]
Sentimental Piece
"By far the biggest trend I see is people wanting to repurpose old or outdated jewelry to create custom ring/rings," says designer Chaya Caron. "Many have heirloom pieces that have great sentimental value, but simply do not reflect their taste. Repurposing is a fabulous way to maintain that nod to family tradition while wearing something truly unique."

[Photo: Etsy]
Colored Diamonds
Couples are also branching out when it comes to stones. "It is refreshing and exciting to see so many new brides wearing outrageously beautiful yellow diamonds. A little burst of yellow is original and special. For those who haven't tried on a yellow diamond before, it is a trend well worth exploring," says Jayme Pretzloff of Wixon Jewelers in Minneapolis, MN.
[Photo:
Etsy
]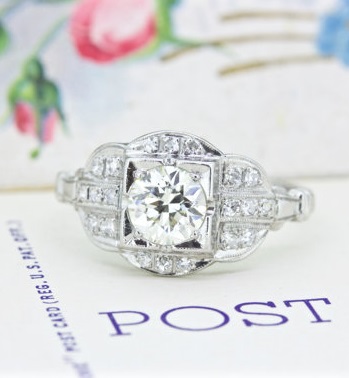 Double Duty Ring
Many couples are steering away from the two-ring tradition for women (an engagement ring and then the wedding band), says Caron. Instead they are opting for one ring that is bigger/more complex. "I think this is sometimes driven by cost, but also by the idea that they can more easily personalize one ring and not worry about how it will 'match' a wedding band."

[Photo: Etsy]
Solitaires
A simple solitaire engagement ring lends itself well to stacking different bands, rather than a matching wedding band, for anniversaries or other special occasions, says Brittany Collier, Chancey Charm Washington DC Planner and Wedding Coordinator. It can also be more economical since the groom can focus on putting all of his money into one beautiful stone and forgoing side stones or baguettes.

[Photo: Etsy]
Cushion Cut
The round shape is still the most requested cut, but a favorite trend at Wixon is the cushion cut diamond. "They were popular back in the early 1900's, and have recently again become a favorite," says Pretzloff. "Originally referred to as the candle light diamond, they are one of the most romantic and whimsical shapes that still manage to pack a major sparkle. And one can typically get a bit bigger fancy shape diamond for the price versus a round."

[Photo: Etsy]
Colored Gemstones
In line with the revival of antique and vintage styles, engagement rings with bold colored center gemstones—think rubies, sapphires, emeralds, etc.—flanked by diamonds are a great way to hearken back to the style of old European royalty. "Engagement rings with a bold ruby or sapphire as the center stone are trending," says Haseeb Omar of Jogani Beverly Hills.

[Photo: Etsy]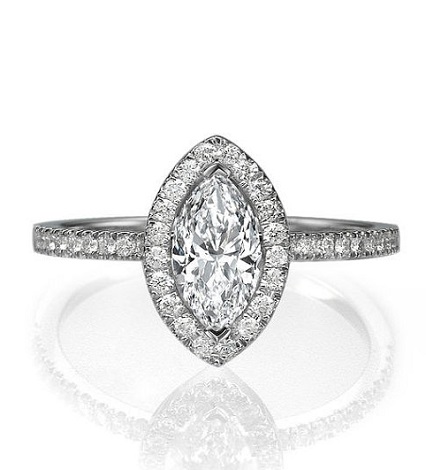 Odd Shapes
Brides who want to stand out are choosing an unconventional shape for their center stones, says Don Ghameersingh, founder of Goldography. "Think a Baguette, Asscher cut, Marquise shape or even a Briolette, instead of the typical round solitaire, using custom designs, for that one of a kind feeling."

[Photo: Etsy]
Multi-tone Metals
Many couples are opting for multi-tone metals (a mix of rose, white and yellow golds). "Men who don't generally wear jewelry seem to be more comfortable with a mixed metal look—for them, it seems to convey a strength and 'manliness' that one-metal rings do not," says Caron. "Some women also like this look... especially if they want their rings to match their husband's."

[Photo: Etsy]