As we work our way to the end of 2016, it's time to say goodbye to some wedding trends that have run their course. Here are 9 that need to retire in the new year.
Rustic
Burlap, lace and mason jars are being replaced with a more organic look, with cotton linens, bouquets with lots of movement and an overall more clean approach to design, says Lindsay Bishop of Lindsay Bishop Events. "Instead of adding a lot of decor items, brides are searching for things with meaning that truly speak to them and are cutting out the clutter."
Upscale Hor D'oeuvres
Ditch the bacon-wrapped scallops, says Alexis Matthews, wedding planner/catering manager at Pechanga Resort & Casino. "What we're seeing now are comfort food bites like a mac & cheese bar, sliders, pizza bites, taco stands or mini pigs in a blanket."
Roses
While the red rose might still be big on episodes of The Bachelor, when it comes to weddings, many planners are simply over them. "Incorporating unique, season-specific flowers within your roses or in lieu of them is trending beyond words," says Matthews.
Baby's Breath
Another floral staple that is out is baby's breath. "There are many more interesting and affordable filler flowers available," says Lauren Chitwood of Lauren Chitwood Events.
The Traditional Cake
Ditch the tiered cake in favor of signature, personalized sweets, such as warm mini caramel apple tarts with sea salt caramel in the fall and seasonal frappes/mini milkshakes (accessorized with a fabulous straw in wedding colors, of course) for the warmer months, says Leah Malin, director of catering at the Seaport Boston Hotel.
Blush & Gold
"Yes, it's pretty, but for goodness sake, how many blush and gold events can there be?" says Heather Vickery of Greatest Expectations. 'It's time for this color combo to go--it was time two years ago!"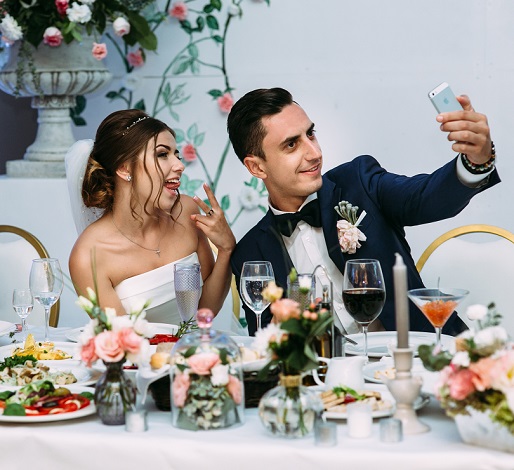 Smartphones
Couples are choosing to go unplugged for ceremonies so that their guests can focus on the event and their photographers do not have to shoulder through a crowd to get their wedding shots, says Anastasia Stevenson of How to DIY a Wedding. "Devices are still the norm at receptions and social media sharing is encouraged for the party."
Wedding Signs
Generic wedding signs such as "choose a seat, not a side" are out for 2017, says Marilisa Martel Schachinger of Martel Event. "While they were sweet when they came out a few years ago, they continue to prove the danger of Pinterest—recycled ideas instead of ones that are fresh and unique to each couple and their story."
Matchy-Matchy Weddings
Feeling pressure to find a dress that is flattering on all of your bridesmaids, and groomsmen's ties that perfectly match that dress, as well as the flowers and the table runners? No need, says Rachel Jo Silver of Love Stories TV. "Of course you want your wedding party and décor to look like they're 'going to the same party' but it's much chicer and more modern to target coordination rather than literally matching colors."