Clear, flawless skin starts from within. Sure, you can slather on all of the anti-aging products you want, but if your skin is missing the vital nutrients it needs, you will just be delaying the inevitable.
That's why dietary beauty supplements have become so popular in recent years. When your diet is lacking, they guarantee you will still get the essential vitamins your body needs to stay healthy from the inside out.
If you're going to take one anti-aging supplement every morning, it should be collagen. Collagen is the protein in your skin that's responsible for keeping it firm, supple, and youthful looking.
Adding a collagen supplement into your diet every day will help delay the signs of aging and keep your skin looking more youthful. You can shop for collagen supplements at your local drugstore, vitamin shop, or even Amazon.
Sports Research Premium Collagen Peptides Powder ($26.55)
The best-selling collagen supplement on Amazon is the Sports Research Premium Collagen Peptides Powder with over 6,000 reviews and a 4.5-star rating. This supplement supports healthy skin, hair, cartilage, bones, and joints, making it vital to combat aging.
Sports Research Premium Collagen Peptides Powder can be enjoyed in yogurt, oatmeal, soup, or even just water. It's Paleo & Keto Foundation, and non-GMO verified, as well as backed by a 90-day satisfaction guarantee.
Since our bodies stop producing as much collagen naturally after the age of 30, incorporating this anti-aging supplement into your morning diet can make a big difference in your skin!
Amazon
Product reviews:
"It does exactly what it says! Tightens the skin wonderfully especially if you are losing weight."
"I'm 55 and feeling it! I put a scoop in my coffee every morning (no taste, weird but seriously no taste). In just 4 days I could tell a difference with my achiness. Yesterday I forgot there was ever a problem with my achy bones. TODAY I got ready for work, looked at my face and thought "my face looks really good, I don't think I'll put on foundation ". My co-worker saw me and said how I was "glowing " and commented my skin looked really good."
Shop More Collagen Supplements On Amazon
Perfect Keto Chocolate Protein Powder: Collagen Peptides Grassfed low Carb Keto Drink Supplement ($37.04)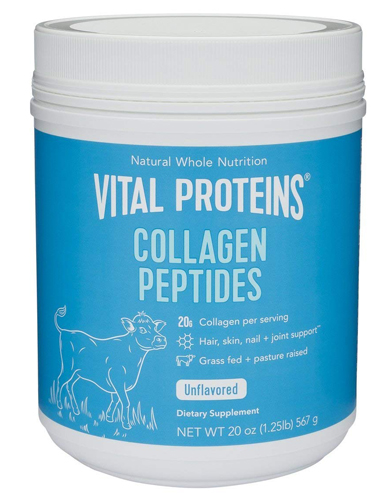 SheFinds receives commissions for purchases made through the links in this post.